Chilean navy helicopter rescues British yachtsman west of Cape Horn
Monday, March 10th 2014 - 06:30 UTC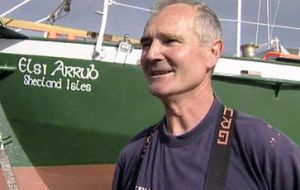 British yachtsman who was trying to sail by himself non-stop around the world has been rescued by Chile's navy and is currently in Punta Arenas. The 54-year-old Andrew Halcrow was forced to give up his second attempt to circumnavigate the globe after the mast on his yacht broke in a storm west of Cape Horn.
A Chilean naval helicopter flew him to the city of Punta Arenas on Sunday. Halcrow made an emergency call Saturday 8 when the propulsion system on his yacht the "Elsi Arrub" failed, leaving him stranded in the Cabo Pilar area about 390 kilometers west of Punta Arenas.
Halcrow thanked the Chilean navy and said he's in good health. In 2006 the Scot yachtsman had to quit his first solo round-the-world voyage when he began feeling sharp stomach pains.
"I have no words to thank the Chilean navy for their incredible display and professionalism and I'm most honored that the Commander in Chief of the region's naval zone was waiting for me when we arrived in the helicopter", Halcrow was quoted by a release from the Punta Arenas naval outpost.
Rear Admiral Felipe García-Huidobro Correa said that aircraft, fast vessels and the 'Dauphin' helicopter, plus a special team of divers were involved in the rescue because of the intensity of the storm.
The top naval officer revealed that a team from the III Naval Zone in Punta Arenas is also involved in monitoring and rescue operations of a US flagged yacht "Anasazi Girl" with five crew members. At the moment of the release three navy vessels were sailing towards the yacht which at that moment was some 360 kilometers away.