A '99% chance' that Venezuela's Maduro visits Uruguay later this week
Tuesday, March 11th 2014 - 05:52 UTC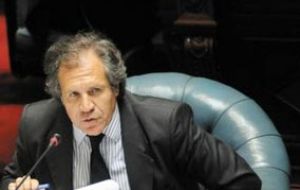 Despite strong criticism from the opposition the Uruguayan government said it is prepared to receive Venezuelan president Nicolas Maduro on an official visit, and there is a 99% chance that this could occur next Thursday, said foreign minister Luis Almagro.
The minister explained this was consistent with the government's position last month during a debate in parliament on the Venezuelan situation, when it announced that such a possibility would be well received since a Maduro visit 'could facilitate some form of dialogue or environment for an understanding with the opposition".
However opposition lawmaker Pablo Mieres said it was a "very serious mistake" to receive Maduro whose regime clearly 'violates human rights and shoots protesting students in the streets'. He added "it's not the best moment for him to come, since in Venezuela there is only a monologue from Maduro. Receiving him would send the wrong message".
"Receiving president Maduro in the current circumstances is shameful for Uruguay, since it is equivalent to supporting his policies. A huge back-step in the country's human rights policy", said Colorado party Senator Ope Pasquet. "There are hundreds of ways to politely and diplomatically tell Maduro, no red carpet".
Senator Pasquet said that the 'brutality' of the Bolivarian National Guard and the armed goons from the regime, on motorcycles opening fire on unarmed civilians has been recorded and denounced by groups such as Amnesty International and Human Rights Watch.
A month ago an infuriated Almagro said before the Uruguayan parliament that "the Venezuelan opposition was heavily armed" and that "most of those killed during the protests were Venezuelan government sympathizers".
Maduro arrived early Tuesday morning to Chile and will attend the inauguration of President Bachelet later in the day, and apparently will stay an extra day in Santiago for a Unasur meeting. He would then fly to Uruguay to meet President Mujica which is well considered by the Venezuelans.
At the same time Venezuela has become an important market for Uruguayan goods and in his annual message to Parliament, President Mujica said that together with Brazil and Mexico, the three countries are Uruguay's priority in the Americas.
Uruguay exports to Venezuela increased 10% in 2013, after having jumped 20% in 2012 over 2011. However this year given the ongoing unrest and strong currency difficulties faced by Maduro's regime, exports are expected to drop 10%.
Venezuela buys mostly dairy produce (cheese, milk, butter, casein), beef, chicken, rice since the country is desperately short of staples, and has the highest inflation in South America.
Uruguay on the other hand receives Venezuelan crude at special prices, and last year of the fifteen main shipments, seven came from PDVSA, Venezuela's oil company. Venezuela also has a bank in Uruguay, has invested in a bio-fuel plant, and has helped recover some manufacturing plants.
Uruguay has been very careful in supporting the legitimate government of Venezuela, has called for peace and dialogue, but abstained from other harsh statements blaming the opposition. On the contrary it has insisted that whatever the government, it must guarantee human rights, freedom of expression and freedom of assembly.
Unasur, Union of South American Nations, foreign ministers are scheduled to meet in Santiago on Wednesday to address the Venezuelan situation and it would not come as a surprise if President Maduro himself attends the ministerial round.