El Salvador Electoral tribunal declares incumbent candidate the winner
Thursday, March 13th 2014 - 22:44 UTC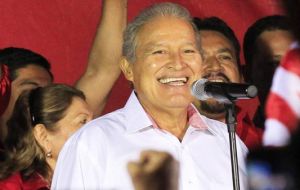 A former Marxist guerrilla leader won El Salvador's presidential election by a margin of less than one quarter of one percentage point, according to final results released on Thursday, but the right-wing rival continued to press to have the vote annulled.
Salvador Sanchez Ceren of the ruling Farabundo Marti National Liberation Front (FMLN), which as a militant group fought a string of US-backed governments in a 1980-1992 civil war, won 50.11% support in Sunday's vote, results showed.
Challenger Norman Quijano, the 67-year-old former mayor of San Salvador and candidate of the right-wing Nationalist Republican Alliance (Arena) party, had 49.89% support. He has filed a claim to annul the election due to fraud.
El Salvador's Supreme Electoral Tribunal president, Eugenio Chicas, said the five-member court unanimously validated the election results, showing that Sanchez Ceren beat Quijano by 6,364 votes.
"We make an invitation to build for the future, because the FMLN's presidential ticket, now elected to lead the country, is going to work to unite the country," Sanchez Ceren said.
Due to the ongoing dispute, the tribunal said it could take until Sunday or Monday to work through Quijano's legal challenge to the election and settle any remaining doubts.
Quijano claimed on Wednesday he had proof that 20,000 people had voted twice, but refused to share evidence with media. International observers said they had seen no evidence of widespread fraud.
"We don't see any basis for the accusations" said Dieter Druessel, a Swiss election observer. "They talk about 20,000 votes, but ultimately they aren't presenting anything."
Sanchez Ceren, who would be the first ex-rebel to become president if he takes over from incumbent Mauricio Funes, has promised to make a "national pact" with conservative parties and business owners, and to establish a moderate government. He was the vice-president of Funes.
Quijano has tried to paint him as a radical in disguise who would bow to the influence of socialist Venezuela. In the two-round election, Sanchez Ceren won the first with a comfortable difference, however Quijano campaigned strongly and almost defeated the incumbent.