Falklands, trade, Mercosur/EU, oil and gas, in Swire's agenda in Uruguay
Thursday, March 13th 2014 - 05:52 UTC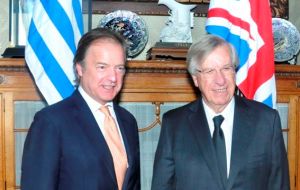 Bilateral trade, Mercosur/EU talks, oil and gas cooperation, and Falkland Islands, plus some audacious comments on the coming World Cup match Uruguay/England, were some of the issues addressed by Foreign Office minister for Latin-American Hugo Swire during his one day visit to Uruguay on Wednesday.
Minister Swire arrived from Santiago de Chile where he attended the inauguration of President Michelle Bachelet and on Thursday is expected in Lima, Peru.
During a presentation before the Uruguay-Britain Chamber of Commerce at the British embassy, Mr. Swire said that the current UK coalition government is making a special effort in recovering lost ground in Latin America by opening new offices and promoting British businesses and increasing trade in "a highly competitive, demanding world".
To that respect there was a brief presentation from a local consultant on UK/Uruguay trade and opportunities pointing out the services and goods areas where both countries have been trading, although as Uruguay was upgraded since January first it lost some of the tariff benefits it enjoyed in exports to the EU, and to the UK.
Nevertheless given the strong infrastructure investments Uruguay will have to be making in the next two decades, it was underlined that UK know-how and expertise had in effect great chances of an increasing presence as well as Uruguayan produce, mainly food, properly categorized and following consumption patterns of an ever environment-aware UK market, also has great chances given the volumes involved and where Uruguay's share is insignificant.
Minister Swire said that reaching a trade agreement between Mercosur and the EU was essential to continue promoting bilateral relations and overcoming the January rulings on tariffs benefits.
"I know that Uruguay and most other members are most willing and feel urged to reach an agreement, but it is also known that one of them not so many miles away from here, does not necessarily feel such urgency. But, over ten years have gone by since talks began to it is time to make it effective", said Swire who pointed out that the UK is most interested in the agreement and is working hard to that purpose.
More specifically on Uruguay/UK trade, Mr. Swire suggested the country organize a Uruguay/day or Uruguay/week every year in Britain, such as Chile, Peru and SICA (Central American countries), to present the country and its investment and trade opportunities to British companies, helping to overcome the lack of knowledge on the existence of promising markets.
The minister also said that PM Cameron had contracted in several areas experts from the private sector to help promoting trade, cooperation and developing areas of interest for the countries involved, and to that effect he offered to send the agriculture expert who also dominates the whole marketing process from soil to the consumer.
Regarding the Falkland Islands, Mr. Swire said that the current situation has been highly counterproductive mainly for Argentina and is hopeful that with a new government in 2015 there will be a different attitude, more constructive and to the benefit of the Falklands and Argentina.
The minister also recalled that a year ago the Falkland Islands held a referendum and the overwhelming majority of the population voted to remain a British Overseas Territory, so this means that any future talks will have to include the Falkland Islanders.
He said it was evident that the Falklands want to have good neighborly relations with the continent countries, and in the case of Uruguay there has been a long history, thus the need to promote links, trade, communications between Montevideo and the Islands, again for the benefit of all sides.
During a brief questions period the issue of UK luxury goods and tourism was brought up since they had not been included in the UK/Uruguay trade presentation. It was agreed that in effect they are both significant, in the first case since Uruguay has a string of free shops along its border with its huge neighbors and free zones which cater precisely to those markets. As to tourism it is a matter of promotion and connectivity.
Earlier in the day minister Swire met with Vice-president and acting president Danilo Astori, and Industry minister Roberto Kreimerman and discussed bilateral trade, cooperation in different fields and links with the Falkland Islands.
However of special interest for the Uruguayan officials was technical cooperation in the oil and gas industry, since Uruguay is in the exploratory stage off-shore with several international companies involved and encouraged by the surveys and seismic data collected.
"We discussed the hydrocarbons exploration possibilities of Uruguay and how British companies, particularly those with great experience and expertise from the North Sea could help Uruguay in the development of its industry", Swire told the press.
The minister said that current exploration in Uruguayan waters by British companies such as BP and British Gas are considered 'very encouraging" and those they are interested in staying in Uruguay to move to the following stage.
And if oil if finally found Uruguay will then enter the league of countries with sovereign funds, and here also "the UK cooperation and advice can be very helpful".
The Falklands, as part of a greater bilateral trade relation with the UK were also considered and making business with the Islands and shipping goods from Uruguay "undoubtedly will be very welcomed in the Falklands" said Swire.
Later in the afternoon Mr. Swire met with the four Uruguayan lawmakers who recently visited the Falklands and coincided with the British official during their weeklong tour.
Finally the UK minister forecasted England will 'humiliate' Uruguay in the coming World Cup, (even if English players are melted by the heat and the long Uruguayan national anthem), but nevertheless he was willing to recommend sending coaches and players to help Uruguay improve its football, although admitting that England has never been able to defeat Uruguay in a World Cup.
On the other hand he felt gratified when people mispronounced his name and it sounded more as 'Suarez'.