On the anniversary of his papacy, Francis renewed 'Pray for me' message
Thursday, March 13th 2014 - 23:34 UTC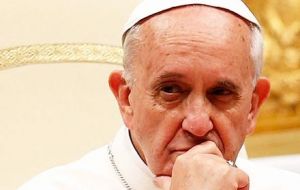 Reaffirming his austere and simple style – no mass celebrations have been scheduled in the Vatican to mark the first anniversary of his papacy – Francis chose a social network to address Catholics and renew his "Pray for me" message.
The first Latin American pope in history is currently in Ariccia near Rome along with the Roman Curia on a Lenten spiritual retreat held outside the city state for the first time in decades. No special activities to commemorate his first year as the head of the Roman Catholic Church will take place, Vatican spokesman Federico Lombardi has confirmed.
But still there was a prayer Argentina's Jorge Mario Bergoglio renew a year after he was elected pope. "Pray for me," he wrote in his official Twitter account earlier today.
The decision to hold the week of preaching and prayer in the town of Ariccia, in the Alban hills about 15 miles from the Vatican, is another sign of how the pope is unafraid to change age-old conventions.
The election of the first non-European pope in 1,300 years was seen to reflect a desire to bring fresh air into the Vatican and its Italian-dominated bureaucracy the Curia, some of whose members have been accused of corruption and cronyism.
The Argentine-born pontiff has said that the Curia should be less inward looking and "Vatican-centric". In his weekly Angelus before leaving for the retreat, he said the first Sunday of Lent was time to remember how Jesus rejected temptations such as economic comfort and worldly power.
"This gives us strength and supports us in the fight against the worldly mentality that lowers man to the level of basic needs, causing him to lose the hunger for what is true, good and beautiful, the hunger for God and His love," Francis told the crowds of pilgrims in St. Peter's Square.
Since his election on March 13, 2013, the anniversary of which falls on Thursday, Francis has broken with many customs in a drive to bring more simplicity to the Vatican, choosing to live in a boarding house rather than the Apostolic Palace and using a Ford Focus instead of the papal limousine.