Death toll in a month of violent protests in Venezuela has risen to 28
Friday, March 14th 2014 - 08:49 UTC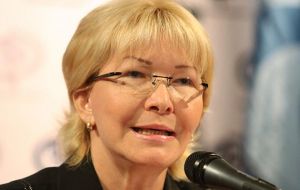 Venezuela's state prosecutor said on Thursday the death toll from a month of violent protests had risen to 28, after the nation's top court ordered opposition mayors to dismantle barricades set up by street protesters.
Luisa Ortega Diaz, speaking on the sidelines of the UN Human Rights Council in Geneva, also said 1,293 detainees had been released and 104 remained in custody accused of serious crimes during the anti-government demonstrations.
"We need to ensure there is no impunity and it must be fully investigated to determine whether those people held in jail are the authors of those homicides," she said.
President Nicolas Maduro, a former bus driver elected last year to succeed the late Hugo Chavez, has declared victory over a "coup" attempt and does not look in danger of being toppled.
The protesters, some of whom have vowed to stay in the streets until he quits, are demanding political change, and an end of high inflation and crime rates, as well as shortages of basic goods such as milk, flour and cooking oil in stores.
Ortega said the authorities were investigating 27 complaints against individuals from law enforcement agencies, adding that there may have been "isolated incidents" of abuse by police and National Guard troops, which would be punished.
More than 300 people have been injured in the unrest.
The protesters decry what they call brutal repression of demonstrations by security forces. Maduro says troops have been even-handed in the face of sustained public order disturbances.
The Venezuela Supreme Court has ordered two opposition mayors in Caracas to remove barricades and other obstacles placed across roads in their municipalities by opposition supporters.
The barriers have frequently become flashpoints for violence between those who set them up, and government supporters or frustrated neighbors who try to dismantle them. The ruling, published by state media said the barricades went against Venezuelans' right to free movement.