Falkland Islanders right to self determination reaffirmed by Minister Swire
Friday, March 14th 2014 - 09:18 UTC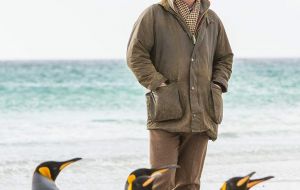 Foreign Office minister for Latin America Hugo Swire MP, who recently visited the Falklands, sent a letter to Falkland Islanders thanking the warm reception and congratulating them on their strong sense of identity and community. The letter was published in this Friday's edition of the Penguin News.
Dear Falkland Islanders:
I would like to thank you all for the warm reception you gave me during my recent visit to the Falklands.
I felt extremely privileged to have had the opportunity to visit your beautiful Islands and can honestly say that my high expectations were more than met. There can be no substitute for coming to the Islands to appreciate their unique charm at first hand and to understand your strong sense of identity and community.
The British Government will continue to do all we can to protect this. My visit reaffirmed my long standing belief in the right of you, the Islanders, to self-determination, a principle to which the UK will be demonstrating its commitment again in Scotland later this year.
Though there are undoubtedly significant challenges ahead, you can take huge credit and pride in the substantial achievements the Falklands have made, in building a prosperous and sustainable community. I was very impressed by the efforts you have made to develop world class industries and exports.
The British Government will continue to support your endeavors to further develop your economy, in tourism, fisheries and, of course, hydrocarbons exploration.
Thank you once again for such an excellent and memorable visit.
The Rt Hon Hugo Swire MP