Unasur delegation begins dialogue-contacts next week to help with Venezuelan situation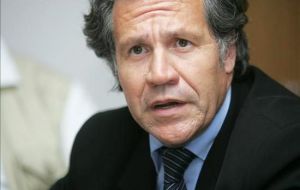 Uruguayan foreign minister Luis Almagro confirmed that next week a delegation from Unasur (Union of South American Nations) will be ready to sponsor dialogue and help de-compress the situation in Venezuela as was agreed at the recent foreign ministers meeting held in Santiago de Chile when the inauguration of president Michelle Bachelet.
"At the Unasur extraordinary ministerial meeting we agreed to create a committee to promote dialogue in Venezuela and I believe that a first meeting can be reasonably expected March 25/26" said Almargo following on Monday's cabinet meeting in Montevideo.
On March 11/12 following informal and formal talks on the sides of the inauguration ceremony in Santiago it was agreed that a Unasur ministerial delegation visit Venezuela and help start dialogue and thus sort out the dangerous situation that has already cost at least 28 lives. The decision was significant since Venezuela was ready to accept Unasur but not the Organization of American States or any other regional grouping.
From Santiago president Bachelet called on all sides in the Venezuela confrontation to dialogue and overcome 'the situation of violence and killings'. The Chilean president is also caught in differing positions inside her wide-ranging catch all coalition.
While the Christina Democrats want to strongly criticize Venezuela president Nicolas Maduro for the intensity of repression and claims of human rights violations, the Communist party blindly supports Maduro and calls for a condemnation of "fascism" and "imperialism" which wants to 'destabilize the legitimately elected Venezuelan government'.
"All over the world human rights must be assured and guaranteed and democracy and the constitution of each country must be respected" Bachelet told CNN. She added that "we are not going to allow that violence or the abuse of human rights in a government freely elected prevails".
Bachelet recalled that her foreign minister Heraldo Muñoz, even before taking office had been working actively for dialogue and a peace process that could end with violence and killings.
The president also confirmed that in coming days a Unasur committee would be travelling to Venezuela as was agreed in Santiago, to address the situation and help establish a round of dialogue.