Mercosur has been 'a good deal' for Uruguay, 'it could have been better'
Wednesday, March 19th 2014 - 07:07 UTC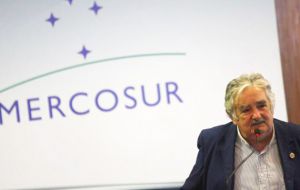 President Jose Mujica said that Mercosur even with all its problems "has been a good deal" although it "could have been better", and it is imperative that the group signs trade agreements with Europe and China, which has become the main trade partner of the region.
"Anyway all the added value that we sell, we sell it in the framework of the region. Besides countries don't move, can't move geographically and our neighbors are too large and determined", said Mujica in an interview with the Chilean daily La Tercera.
"With Argentina we've always had trouble, but history has taught us that when Argentina is making it good, it's good for us and when they go down, so do we; and we have this very clear", underlined the Uruguayan leader referring to the recurrent trade and other disputes with neighboring Argentina.
Regarding the Venezuelan situation, Mujica did not blame any side, but pointed out that both the government and the opposition are "playing with fire and threatening the constitution and democracy", which is extremely serious.
"We need to help Venezuela, democracy is at stake, constitutional rule is at stake, and if they cross the line, it will no longer be a democracy", said Mujica.
"I believe the only path possible is respect and abidance with the constitution", which is more significant than whether the country is heading for some kind of authoritarian regime.
Without abidance of the constitution, there is no democracy, there is no possible dialogue.