US and Paraguay to collaborate in combating organized crime
Friday, March 21st 2014 - 06:09 UTC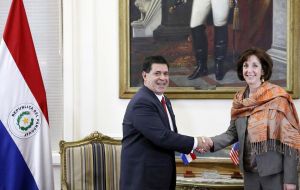 United States Assistant Secretary of State for Western Hemisphere Affairs Roberta Jacobson said Washington is considering increasing cooperation with Paraguay in combating trans-national crime, particularly Brazilian organizations involved in durgs and arms trafficking.
Ms Jacobson made the statement following a meeting with president Horacio Cartes adding that both countries share a 'common perspective' on this kind of crimes that affect all nations of the region.
"We are looking to see how we can increase cooperation to help the Paraguayan government address this plague", said the US official at Government House in Asunción.
Paraguayan authorities have confirmed an increase in the presence of Brazilian criminal organizations in their territory which they use as a source of supply for marihuana and cocaine that is smuggled in from Andean countries.
Following the meeting with President Cartes and Foreign minister Eladio Loizaga, Jacobson said that the two countries assess the bilateral relation, the regional and world situation in "very similar terms".
She added that the administrations of presidents Cartes and Obama share common values such as democracy, transparency, governance and economic development. In that respect Ms Jacobson said that the US was prepared to increase cooperation in education, which she described as crucial, and in promoting private investment.
Jacobson arrived to Asunción from Brazil where on Wednesday she visited the Minearao stadium in the city of Belo Horizonte (Minas Gerais), one of the seats of the coming World Cup and the US team is scheduled to play.
In Belo Horizonte the US official also opened an office, Education USA, which provides information on US universities, at the Catholic Pontific University of Minas Gerais.