Brazil militarizes favelas in Rio do Janeiro to guarantee 'law and order'
Tuesday, March 25th 2014 - 08:59 UTC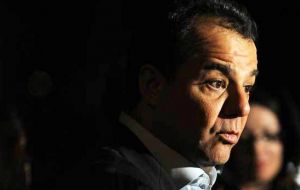 The Brazilian government announced on Monday, 80 days before the start of the 2014 World Cup, that the military will help occupy several "favelas," or shantytowns, in Rio de Janeiro to guarantee security in an area currently controlled by violent drug trafficking outfits where some 100,000 people live.
The use of the armed forces and the National Security Force to occupy the Mare favelas was announced Monday at a press conference by Justice Minister Jose Eduardo Cardozo after a meeting with Rio de Janeiro state Gov. Sergio Cabral.
The troops and the federal forces will support the regional police in an operation designed to drive out the bands of drug traffickers who presently control Mare, which lies in the northern part of Rio, and occupy the area for an undetermined time.
"We're receiving clear guidance from President Dilma Rousseff for the Justice Ministry and the Defense Ministry to support the government of Rio de Janeiro in whatever way is necessary. After an initial evaluation we decided that the priority is that we act together in Mare," the minister said.
The policy of "pacification," launched in 2008, has allowed the Rio government to set up police posts, known as Pacification Police Units, or UPP, in 38 favelas that were controlled by drug traffickers and to guarantee the permanent presence of uniformed officers and public services in the poor neighborhoods.
The activities of the armed forces will be limited to a specific zone within Mare, as requested by the government of Rio de Janeiro in its request for troops to "guarantee law and order," Cardozo said.
The Rio governor asked for the reinforcements last Friday in a meeting with Rousseff at which he told her of the attacks staged by armed bands the day before on at least three police stations in favelas that have already been "pacified.