Strike paralyzes Paraguay in demand for pay rises and against privatizations
Thursday, March 27th 2014 - 08:46 UTC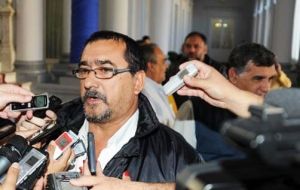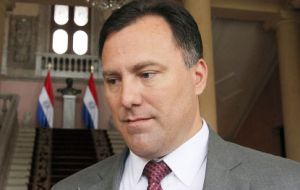 Public life in Paraguay was largely paralyzed on Wednesday by a nationwide strike in demand of higher salaries and against the privatization plans of President Horacio Cartes. Peasants also joined the stoppage and marched on the capital Asunción protesting against the soy-agri-business which is leaving them landless.
The general strike, the first in twenty years, stopped bus and taxi service and closed schools and most businesses in Asunción, union leader Aldo Snead said.
The unions are demanding a long delayed 25% salary increase across the board and want Cartes to roll back a law enabling private companies to invest in government infrastructure in exchange for owning concessions and charging fees. They also want more access to credit for poor people to start their own small businesses and land for small farmers.
Public Works Minister Ramon Jimenez said the public-private investment plan includes the international airport that serves Paraguay's capital, state-owned water treatment plants and the construction of international toll roads linking Asuncion with Brazil, Argentina and Bolivia. It also affects the agency that dredges the Paraguay river and keeps the landlocked country with a navigable outlet to the sea.
Cartes acknowledged that Paraguay's workers have legitimate historic complaints, but has showed no signs of backing down. As crowds of strikers marched past closed storefronts, the president held his routine weekly meeting with armed forces leaders.
However Cartes instructed Vice-president Juan Afara to convene different social organizations to participate in a round of dialogue on the issues brought up by the 24-hour strike and massive stoppage in Asunción.