Argentine wine from small grape farmers for Pope Francis masses
Friday, March 28th 2014 - 08:16 UTC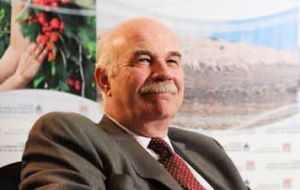 The wine used for the masses of Pope Francis will be made using grapes from small Argentine producers with 500 liters of the drink already in production, according to a report from the Project for the Integration of Small Producers in the Viticulture Chain (PROVIAR).
The election of an Argentine pontiff has given local wine a new opportunity to make its name on a global scale, and a statement from PROVIAR asserts that forces are working together to ensure "the wine in Francis' masses is nothing less than Argentine wine, made from grapes from all of the wine-making provinces."
This would encompass the provinces of Mendoza, San Juan, La Rioja, Catamarca, Salta, Neuquén and Río Negro, as the nation's most important viticulture centers.
The launch of the project was revealed by Agriculture Minister Carlos Casamiquela, who met with small wine producers affiliated with Proviar and other vineyards associated with Centres of Viticulture Development (CDV).
"500 liters of wine are being made in INTA's experimental vineyard with grapes from producers in every one of the Centres of Viticulture Development," the minister affirmed.