Gibraltar top officials on a lobbying and trade promotion tour in Washington
Friday, March 28th 2014 - 08:54 UTC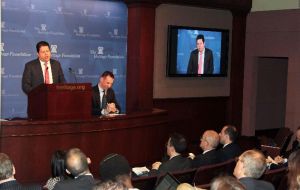 Gibraltar top elected officials this week went on a lobbying tour in the United States where they met government officials, visited Capitol Hill, talked trade and strongly defended the British Overseas Territory freedom, self determination and sovereignty.
Chief Minister Fabian Picardo and the Deputy Chief Minister Dr. Joseph Garcia completed a hectic agenda of engagements in Washington meeting representatives of the US Department of Commerce and a Director of the National Security Council as well as meeting with the American Chamber of Commerce to support the initiative taken in Gibraltar to establish an "AmCham".
Picardo also briefed a group of Congressmen on Capitol Hill during a breakfast meeting. He explained why a British Gibraltar was very much in the strategic interests of the United States, a constant theme of the visit. The briefing was followed by a lively question and answer session, during which the principles of freedom, self- determination and sovereignty were discussed in depth. There was broad agreement on the continued and growing strategic importance of Gibraltar in a rapidly changing world and the pivotal role that it has played in the defence of western interests for hundreds of years.
Mr. Picardo and Dr. Garcia also met with former US Deputy Defence Secretary Rudy de Leon at the Centre for American Progress, which is a Democratic think tank. The meeting also included Dan Restrepo who is a former political adviser to President Obama as well as former adviser to Prime Minister Blair, Matt Browne.
The Chief minister then addressed the conservative Heritage Foundation on the subject of the importance of a British Gibraltar to the US national interest. This was followed by a lunch which included UK journalists based in Washington, the Capitol Hill staff of several Congressmen as well as members of the Heritage Foundation. The event was hosted by Messrs Nile Gardiner and Luke Coffey who is an expert on Gibraltar-US relations.
Picardo's well received address to the Foundation was followed by a speech later in the day from UK Defence Secretary Rt Hon Phil Hammond MP, which allowed them to exchange views briefly on a number of issues in the margins of the event. Mr Hammond and the Chief Minister answered questions from Gibraltar media who were present at the event.
At subsequent separate meetings with the American Chamber of Commerce and the Department of Commerce Chief Minister Picardo said: "This visit has been characterised by its accent on commerce and the raising of Gibraltar's strategic and political profile. We have reached out to influential decision makers and think-tanks on both the Democratic and Republican ideologies, ensuring both sides have a deeper understanding of Gibraltar and what it represents to the US and the potential that can be unlocked by US businesses becoming more aware of what Gibraltar has to offer."