Argentina takes EU biodiesel antidumping measures to WTO
Saturday, March 29th 2014 - 05:46 UTC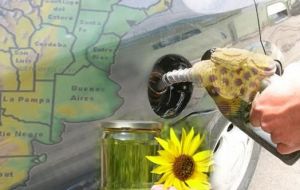 Argentina formally requested the World Trade Organization's (WTO) Dispute Settlement Body (DSB) the establishment of a panel to address the European Union antidumping measures against Argentine bio-diesel. The initiative was rejected by the EU this week.
According to a release from the Argentine foreign ministry "these measures are inconsistent with the WTO Antidumping agreement and article VI of GATT".
The EU decision to impose definitive antidumping rights at the end of November 2013, closed the European market to Argentine exports of biodiesel.
The release recalls that since 2009 Argentina became the main provider of biodiesel to the EU, with sales of 1.847bn dollars in 2011, which represented 13% of all Argentine exports to the EU.
"The biodiesel sector in Argentina outstands for its sustainability and high level of development, scale and integration along the whole production chain, and is currently one of the most efficient producers globally", adds the release.
On the other hand, the EU industry is "highly over dimensioned and since 2012 the EU has been involved in different protectionist measures with the purpose of excluding from the European market the Argentine bio-diesel".
Finally "as is common practice, the EU rejected the first request for the DSB panel". However "following on a second request from our country in the next DSB meeting on 25 April the panel will be formally established".
Argentina will insist with its position of claiming before the different forae "the protectionist barriers imposed by the EU and which harm developing countries".