Falklands receives US oil company temporary dock facility for exploration operations
Saturday, March 29th 2014 - 06:25 UTC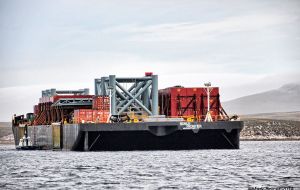 Houston based oil company Noble Energy expects to inject 4 million dollars into Falklands businesses with the construction of the temporary dock facility which arrived in the Islands this week, Senior Vice President Susan Cunningham told those attending a presentation in Stanley on Monday evening.
The installation to the east of FIPASS which the Falklands Government has stated will have to be removed in three years is due to be completed by July.
Ms. Cunningham arrived in the Falklands by company jet earlier that day and in a packed out Narrows Bar outlined the oil company's program leading into 2015 when further exploration will take place.
She said Noble Energy as a whole was predicted to more than double production by 2018, but was quick to point out that the mission statement was to energize the world and better people's lives.
Noble Energy was, "a bunch of people, not a corporate entity," Ms. Cunningham told her interested audience, adding, "everyone around us, those we touch," should also enjoy success.
Talking to Penguin News on Tuesday she said "possibilities," had been identified in the preliminary findings from the recent "Ramform Titan" seismic survey, but that it was too early to make predictions.
"But that is why we are going to go out and contract a rig to start exploration from what we have seen in the first two areas to the south," she said.
The company expects to start this phase in 2015 and Ms Cunningham said the expectation was that if some encouraging wells were discovered, sourcing of a rig to continue the operation would begin immediately.
In terms of operations the Falklands is more challenging than some, "but not out of the realm of what we have dealt with elsewhere in the world," said Ms Cunningham, adding, "our expectations are that we will be able to make it work."
Asked if it was these very challenges which made the job more exciting, she replied, "absolutely," adding that at risk of sounding like Star Trek, Noble Energy likes, "to go where no one has gone before.
"We see the greatest possibilities and are confident we can work through the challenges and have experience doing that.
We really believe that it's just a case of us deciding we're going to figure out a way."
While the Argentine Government has threatened and even initiated legal action against some of the companies carrying out exploration in Falklands waters, Noble Energy appear to have escaped unscathed to date.
Ms Cunningham could offer no obvious explanation for this preferential treatment: "Who knows it could be because of where we come from and the range of places we work in around the world. I really don't know and hopefully it'll stay that way," she told Penguin News.
The company was committed to the Falklands, Ms Cunningham had stressed at Monday's meeting, adding that it was not the only place where different pressures and perceptions had to be dealt with.
Business Unit Manager Mike Radabugh had added that there had not been any problem getting service companies to sign up to the operation either.
Ms Cunningham who plans to return to the Islands at a later date and enjoy some of the outdoor attractions on offer, said her first visit had been planned to coincide with the arrival of the Noble Frontier temporary dock to the Falklands and to begin building relationships and meeting the people involved.
Unfortunately due to the bad weather hampering progress of the dock the former had not happened. She acknowledged the good work Noble's FI representative Richard Winkleman was doing in the Falklands.
"He represents the best of Noble," said Ms. Cunningham, concluding, "We're now really looking forward to having some success and building on it."