Brazil remembers the 50th anniversary of the coup that led to 21 years of military rule
Monday, March 31st 2014 - 23:20 UTC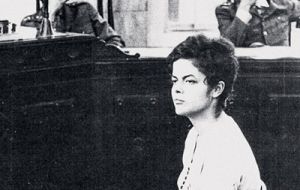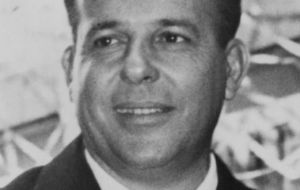 President Dilma Rousseff remembered on Monday, 31 March, those who died or disappeared fighting for the return of democracy in Brazil on the fifitieth anniversary of the miltiary coup of 1964, which lasted until 1985 and had full political support from the United States, at the time under president Lyndon Johnson.
"Scars can be supported and overcome because today we have a social democracy and we can tell our story", said Rousseff, herself a former guerrilla fighter who as a student was imprisoned and tortured by the dictatorship.
The leader who replicated her comments in twitter said that during 21 years "our freedom and our dreams were silenced", but also acknowledged and valued the political engineering that led Brazil to a 're-democratization'.
In 1960 a former Sao Paulo mayor and later governor Janio Quadros was elected president of Brazil; an eccentric, populist character, who resigned only a year later among other things because of doubts about his mental health, and more specifically after having honored Cuban-Argentine guerrilla leader Che Guevara at a special ceremony with one of Brazil's most priced medals.
Quadros was succeeded by a rich cattle farmer Vice-president Jango Goulart who promised significant social and labor reforms which further consolidated a strong conservative anti-communist political public opinion force supported by the armed forces and the Catholic church.
Brazil was surprised by Quadros resignation and so was Goulart at the time in Beijing discussing diplomatic relations with Mao's China. There was strong resistance to letting Goulart take office but finally the presidential system was made parliamentary and he crossed into Brazil from Uruguay.
However three years ago extreme right groups insisted with the alleged 'communist threat' represented by Goulart and his brother in law Leonel Brizola, and was finally ousted by a military ultimatum. Goulart had support in the south of the country, but preferred to abandon the field before triggering what could have been a civil and military confrontation.
Government was again in the hands of the Brazilian military, this time the generation of officers who fought next to the US in Italy (1942/45) with ground and air forces, rabidly anti communist, impregnated with the national security theory and the Cold war spirit.
The military irruption which was to be temporary finally lasted 21 years, with the Army withdrawing on their will and conditions in 1985. The military invested heavily in infrastructure, agriculture and manufacturing but disbanded political parties, tortured and persecuted alleged opponents of the regime, freedom of the press, expression and reunion were banned and human rights abolished from official jargon.
It is estimated that in those two long decades an estimated 160.000 'suspects' were arrested, half that number abused or tortured and 400 killed or disappeared. Even Goulart who died in exile in 1976 is believed to have been poisoned by the military squads. His remains were given full presidential honors last year by the Rousseff administration and buried in Brazil, while there is a forensic investigation on to determine exactly how he died.
However Brazil remains the only country in the Southern Cone which has not taken to court those responsible for repression during the military years, and the Truth Commission created in 2012 which is looking into records of the time is advancing at a crawling pace.
But whatever the commission findings they will have a limited impact since a 1979 Amnesty bill, drafted by the military regime for their exit is still in force and protects the alleged abusers from court. Furthermore the bill was confirmed by the Supreme Court since democracy returned to Brazil and some of the military officers that played a leading role argue the 1964 'revolution' was a patriotic achievement to prevent Brazil from falling into the 'hands of communism'.
In her message President Rousseff said that the anniversary day "demands that we remember and tell what happened. We owe that to all those who died or disappeared, to the tortured and persecuted, to their families, to all Brazilians. Remembering and telling what happened is part of the very human process, of that process we started with the Brazilian people's struggle for amnesty, for a constitutional assembly, for direct elections, for growth with social inclusion, for the Truth commission, all of them manifestation and democratic processes that we have lived through in the last decades. A process that was built step by step, during each of the elected governments since the dictatorship.
"The great Hanna Arendt wrote that all human pain can be supported if the story of events can be told. The scars can be born and overcome if we can tell what happened. In this Palace (Executive Planalto), two years ago, when the National Truth Commission was nominated I said that if there are children without a country, a country without tombs, never again can there exist a story without a voice. And what will give voice to those stories are the free men and free women who have no fear of writing them. We are who give voice to history".