Federal troops move into Rio favelas to secure access to Galeao airport
Monday, March 31st 2014 - 13:02 UTC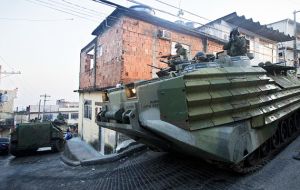 Brazilian police backed by troops occupied a massive favela next to Rio de Janeiro's international airport without firing a shot to secure one of the city's most violent neighborhoods long run by drug dealers.
Wresting control of the area from drug lords was a security priority for authorities because it surrounds the expressway to Galeao airport where tens of thousands of foreigners will land in June for the soccer World Cup.
Marines in armored cars reinforced the operation that took barely 20 minutes to re-establish police control over the Maré area, where 130,000 people live in poverty on the north side of Rio.
Police said they seized guns and 450 kilos of marijuana and arrested two suspected dealers. Residents said most drug traffickers slipped out the slum ahead of the occupation, which was announced on Friday.
"This is a strategic area for us, a city within the city. Traffickers have been there for years," Rio de Janeiro state security chief José Beltrame told reporters.
The occupation follows a wave of attacks on police posts in favela that had been occupied under Rio's so-called "pacification" program launched in 2008 to expel drug gangs to make the city safer ahead of the World Cup and the 2016 Olympic games.
The backlash heightened concerns about security and law and order during the global sports events Brazil will host that its political leaders had hoped would showcase the emergence of a modern and prosperous nation.
President Dilma Rousseff agreed to a request from Rio's state governor for federal troops to be deployed in the more notorious slums ringing Rio during the World Cup.