'Malvinas Islands'/'Gaucho Rivero' 50-Peso bill to honor Argentine fallen soldiers
Wednesday, April 2nd 2014 - 22:22 UTC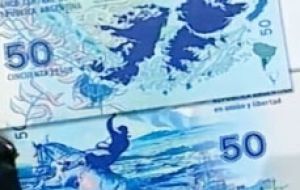 As part of the commemorations of the "Day of the Veterans and Fallen in the Falklands War", or the 32nd anniversary of the start of the South Atlantic conflict with the UK, Argentine president Cristina Fernandez unveiled a new 50-Peso bill that will carry a map of the Malvinas Islands and is to be soon issued.
The president made the presentation on Wednesday at the Executive Palace (Casa Rosada) saying the bill was in honor of the 649 Argentine soldiers who lost their lives 32 years ago, those who "gave their life for the homeland".
This is a show of "historic, social and political vindication" of Argentina's sovereign rights over the disputed territories, said Cristina Fernandez.
The Central Bank and the Minting House have been instructed to have the new bill in circulation in the coming six months which will represent "a peaceful claim in a sovereign element in all the extension of the word, as is a currency of legal tender in Argentina".
The bill will also show in its reverse an image of Antonio "Gaucho" Rivero, a South American cowboy and farm-hand born in Entre Rios province who allegedly led a revolt in the Malvinas Islands in 1833, resisting the British 'illegal occupation' of the archipelago.
However the 'Gaucho Rivero' legend or his feats have been questioned by some Latin American historians who describe him as a 'mutinous murderer', nothing brilliant about him or his life.
During the military occupation of the Falklands in 1982, the original name given by the Argentine invading forces to the capital Port Stanley was 'Gaucho Rivero', but when aspects of the gaucho's life and his cut-throat abilities surfaced, the military immediately changed the name to Puerto Argentino.
The Falklands' conflict which took off on 2 April, 1982 with the Argentine military invasion of the Islands and ended 74 days later with the complete surrender of the Argentine forces to a British Task Force. The death toll was 649 Argentine combatants (mainly green conscripts), 255 British soldiers and three Falkland Islands civilians.
In Darwin, an hour's drive from Stanley there is an Argentine memorial that holds the remains of 237 Argentine combatants, with 123 of the crosses reading "An Argentine Soldier Known Unto God", which means unidentified.