"Our Malvinas" photo exhibit opened in the Argentine congress
Wednesday, April 2nd 2014 - 08:05 UTC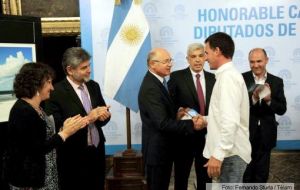 On the eve of a new anniversary of the Argentine military invasion of the Falkland Islands, (2 April 1982) Foreign Minister Héctor Timerman said that when Great Britain finally agrees to sit for negotiations over the disputed Malvinas there will be "no way to deny" the Islands belong to Argentina.
Timerman made the statement during the opening of a photographic exhibition under the heading of "Argentina's Malvinas: our Islands in images", at the Argentine Congress, Tuesday evening. He was accompanied during the ceremony by the president of the Lower House, Julio Domínguez, who is also a Malvinas veteran and Daniel Filmus, head of the Malvinas Affairs Secretariat.
The minister said that Argentina "will keep insisting in every international forum" over the Malvinas cause because "it is a just cause and a Latin-American cause, and it is supported by all and every Argentine".
The Foreign Minister blasted Britain's "aggressive stand over the Islands" and its colonial traits by underlining that there are "16 colonized territories over the world and 10 belong to the UK".
"We can't conceive the Argentine Republic without the Malvinas Islands, since they are an integral part of our territory", underlined Timerman adding that there was no question that "in Congress, in all political parties, and in all political groups, Malvinas is a State policy and a flag Argentina will never surrender".
The photographic exhibit will be on until 6 April and includes images of marine fauna from the South Atlantic, mainly sea mammal and sea birds.