World Bank will increase lending capacity by 100bn to 300bn in the next ten years
Wednesday, April 2nd 2014 - 08:29 UTC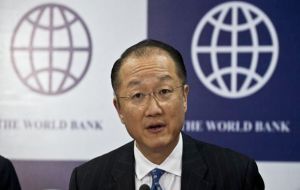 The World Bank announced on Tuesday a series of measures to strengthen the bank resources including a 100 billion dollars increase in the lending capacity for middle-income countries over the next decade, new innovations in financial management, and a boost in the institution's ability to provide private sector support.
This follows the record 52 billion replenishment of IDA, the World Bank's fund for the poorest, in December 2013.
Speaking on Tuesday at the Council on Foreign Relations (CFR) in Washington in advance of the World Bank/IMF Spring Meetings, president Jim Yong Kim outlined how the Bank is positioning itself to better achieve its goals of ending extreme poverty by 2030 and boosting shared prosperity for the lowest 40% in developing countries.
"We now have the capacity to nearly double our annual lending to middle-income countries from 15 billion to 26 to 28 billion a year. This means that the World Bank's lending capacity will increase by 100 billion to roughly 300 billion over the next ten years," said Kim. "This is in addition to the largest IDA replenishment in history, with 52 billion in grants and concessional loans to support the poorest countries."
In addition to the previously announced 400 million dollars in cost savings over the next three years that can be reinvested, Kim described a series of measures at the International Bank for Reconstruction and Development (IBRD)—which provides financing, risk management products, and other financial services to middle-income countries—that have the potential to transform IBRD by substantially increasing its ability to serve its clients.
These include: increasing IBRD's Single Borrower Limit by 2.5 billion for Brazil, China, Indonesia, India, and Mexico, with a 50 basis point surcharge on the incremental amount; revising IBRD's minimum equity-to-loan ratio to reflect improvements in portfolio credit risk, enabling more efficient utilization of shareholder capital while remaining financially prudent and changing IBRD's loans terms, including restoring the 25 basis point commitment fee charged on undisbursed balances, and offering longer maturities with increased maturity differentiation.
This will allow IBRD's annual lending commitment capacity to expand immediately from the current 15 billion in annual lending to more than 25 billion per year. Therefore, the Bank's clients over the next 10 years can see IBRD's capacity, in terms of the maximum loan book it can prudently support, increase from about 200 billion to nearly 300 billion, which would also boost the Bank's countercyclical crisis-response capacity. With an infrastructure financing gap currently estimated at 1.2-1.5 trillion dollars per year in emerging market and developing economies, additional resources that remain attractive relative to bond markets should continue to be in demand.