Argentina's YPF sells one billion dollars in 10-year bonds at 8.75% rate
Thursday, April 3rd 2014 - 07:25 UTC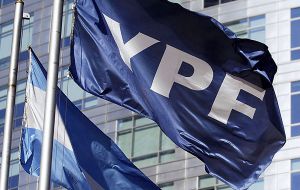 Argentina's nationalized oil and gas producer, YPF, sold 1 billion dollars in a bond sale on Tuesday, the company said in a statement. The 10-year bonds will pay 8.75% interest and were five times oversubscribed, YPF said. The U.S. dollar-denominated securities were issued under Argentine law and was considered a great success by the company.
The bond issuance is YPF's third major bond sale since October when it sold 150 million, followed by 500 million of five-year global bonds in December.
The company plans to invest 5.5 billion in 2014 and is looking to finance its development in global debt markets. Argentina in less than ten years ceased to be a hydrocarbons exporting country to a net importer because of failed oil and gas policies subsidizing consumption and freezing prices at the well head.
Argentine President Cristina Fernandez seized a 51% stake in YPF from Spain's Repsol SA in 2012 after she claimed the Spanish oil company hadn't invested enough in exploration and production.
Last month, Repsol agreed to end its legal battle with Argentina over the expropriation of its YPF stake in exchange for Argentine government bonds valued at about 5 billion. YPF officials are hopeful the deal will clear the path for the Argentine company to attract fresh investment in the country's vast and largely untapped shale-oil and gas fields in Vaca Muerta, Neuquén province.
Last year, Chevron agreed to fund the bulk of a 1.5 billion joint venture with YPF to produce shale oil and gas. Argentina ranks second in the world, behind China, in potentially recoverable shale-gas reserves, with 802 trillion cubic feet, according to a recent study by the U.S. Energy Information Administration. Argentina also ranks No. 4 in shale oil with an estimated 27 billion barrels.