Uruguayan government feels it can tame inflation based on March's index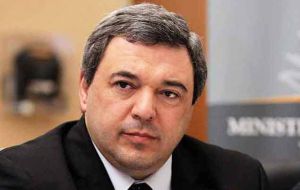 Inflation in Uruguay during March reached 0.58% accumulating 4.74% in the first quarter and 9.73% in the last twelve months, which is seen as 'positive' and an indication that recent measures to contain prices are 'being successful', according to Economy minister Mario Bergara.

The latest release from the stats office, INE, with March's 0.58% represents a significant drop from February's 1.66% and January's 2.44% which set all alarms ringing.

A year ago March inflation was 0.66% with 3.59% in the first quarter and 8.54 for the twelve months of 2013.

INE specifies that Education in March was up 2%; food and non alcoholic beverage, 1.42% and transport 1.38%. However communications were down 4,45%, as was leisure and cultural activities, 1.08%.

Keeping inflation below 10% is crucial for the Uruguayan government since the double digit index means all mid and long term salary agreements with Uruguay's strong unions automatically drop and a new round of negotiations re-opens.

March is the first month in which the result of special inflation contention measures were agreed and include a list of 'agreed prices' for a number of basic goods with the supermarkets and main stores, plus the elimination of VAT for fruit and vegetables that were the most volatile items during an exceptionally rainy summer with scarce sunshine.

Likewise government monopoly utilities such as power, drinking water, communications, also eliminated 23% VAT on bills, and fuel prices were frozen. Importers joined the agreement effective until the end of May, "as long as the price of the US dollar remains relatively stable".

"I believe this is a first step since the twelve month inflation has started to come down, gradually, and we believe this is significant and the result of the dialogue process, and measures agreed, with workers, business leaders, importers, so as to have a positive result", underlined Bergara during an event with government and private sector leaders.

Bergara also mentioned the fact that the Uruguayan economy last year expanded an unexpected 4.4%, "an enviable percentage al world level", and this should put an end to all those voices that are anticipating that next year "we'll need a deep readjustment".

"We have a good balance between exports, investment and domestic consumption" with no major macroeconomic misbalances, insisted Bergara.

However 2013 is election year in Uruguay and for the first time in several years there is a chance that the opposition could further advance and neutralize the congressional majority the ruling coalition has enjoyed.

Official data also shows that the budget deficit in the last quarter of 2013 climbed from 2.8% to 3.1% of GDP with an expanding economy. Likewise private analysts agree that with the deterioration of the economic situation in Brazil and Argentina, plus a slowdown in China, Uruguay's main trade partners, and the US cutting liquidity, things could begin to become more challenging.

More specifically regarding the 'agreed prices', official data shows that 75% of items had prices increased before the inflation contention program became effective.