Diego García and Falklands in the same 'claim basket', anticipates Chagos leader
Saturday, April 5th 2014 - 02:51 UTC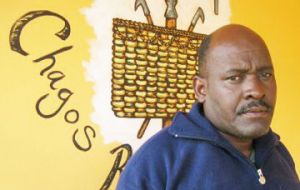 The leader of thousands of displaced Chagos islanders fighting Britain for a return to their Indian Ocean archipelago (Diego García) has said they will wage a joint diplomatic battle alongside Argentina as it seeks sovereignty over the Falklands, according to a report from The Telegraph credited to Hannah Strange.

Olivier Bancoult, president of the Chagos Refugees Group, embroiled in a decades-long legal fight over their exile from the Chagos Islands, said there were clear links between their respective claims on British Overseas Territories.

"We can join forces with Argentina," he told the Argentine state news agency Télam. "The day will come when all those responsible are going to have to answer for the crimes against humanity which they committed."

Argentina's defeat in the Falkland Islands conflict is still a source of deep national rancor. President Cristina Fernandez has made her country's claim on the territory a key plank of her presidency, reinvigorating its campaign in the United Nations and seeking potential allies to increase pressure on Britain to negotiate over the Islands' sovereignty.

Unlike the Falklands, which have never been inhabited by an Argentine populace, Britain removed the indigenous inhabitants of the Chagos Islands during the late 1960s and early 1970s to make way for a US military base on Diego Garcia, one of the archipelago's seven atolls.

The now 3,000 Chagos islanders, who live primarily in the UK and Mauritius, won the right to return to the islands in the British High Court of Justice in 2006, but their hopes were confounded when the Law Lords ruled in favor of the government in a later appeal.

In April 2010, the then Labor government declared the Chagos Islands a protected marine reserve, arguing that the return of the population could harm the environment. The Chagossians are seeking to challenge that decision, claiming it was a cynical move aimed at "improper ends".

Bancoult, who travelled to Buenos Aires to meet Mr Timerman last October, said Britain's actions with respect to the territories belied its stated commitment to human rights.