State of emergency in Buenos Aires province overwhelmed by crime and an outbreak of lynching
Monday, April 7th 2014 - 05:50 UTC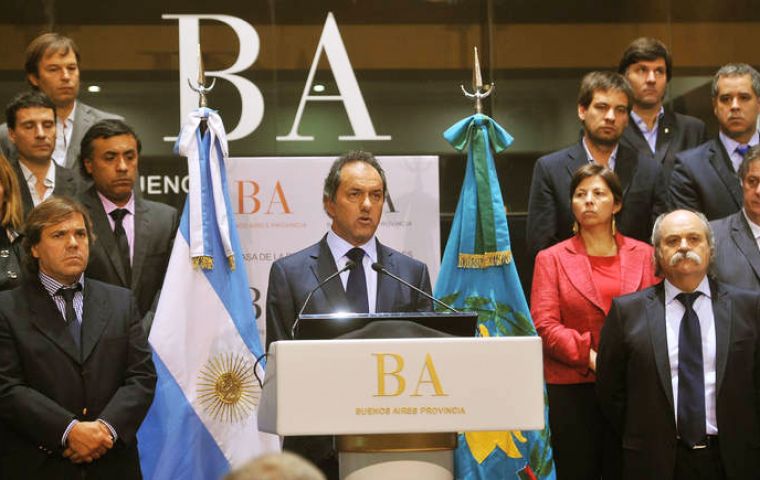 The governor of Argentina's largest, richest and most populated province declared a 12-month state of emergency following an outbreak of lynching by furious citizens who feel defenceless and 'overwhelmed' by crime. The situation has become a major political issue with magistrates and the Church calling for restrain.
"This is a fight to defend the most sacred, life" governor of Buenos Aires province Daniel Scioli said and called on "all political forces" to coordinate efforts in the battle against crime. Escorted by all of his cabinet ministers, Scioli held a press conference in the City of La Plata to declare a 12-month security emergency in the province which represents over 35% of the electorate registry.
"The emergency is the legal instrument we have to speed up the investments we need to do to face the kind of crime we are dealing with and the decisions we need to make," Scioli told reporters and explained the anti-crime measures will involve an investment of 600 million pesos in security equipment through the Banco Provincia financing.
Among other measures, is the "immediate call" to retired agents from both the provincial police and penitentiary system to rejoin prevention actions aiming at a 5,000-member force.
The Scioli administration will be as well submitting several bills to the provincial legislature, such as a project to "limit prisoners' release" in a process to be "oral and public" and another one that involves "effective prison terms" in cases of unauthorized weapon carrying.
The governor demanded MPs also a "quick treatment and sanction" of the bill that creates municipal police in the provincial districts.
Furthermore, the governor announced the creation of 8 agencies with a capacity to host 1,000 prisoners and 4 penitentiaries.
Queried about what drove his decision to decree the security emergency, Scioli mentioned Friday's shooting in the provincial locality of Bernal. "There were 50 gunshots in Bernal that could have ended up in a tragedy," he said.
But even when Scioli he did not mention it, it was obvious that among his administration's reasons to make the announcement are the lynching cases of alleged thieves in several provinces across the country, that have prompted deep social unrest and a strong debate among politicians over the past weeks, together with statements from the Catholic Church and from magistrates.
Magistrates are accused of being too lenient with criminals, but they argue that they need legislation and the situation has triggered the debate whether further stronger police powers and more strict sentencing is the solution to the challenge.
Governor Scioli who has a good standing in opinion polls is one of the several hopefuls for next year's presidential race to succeed President Cristina Fernandez.