Airport chaos anticipated for Brazil's World Cup as terminals remain unfinished
Tuesday, April 8th 2014 - 18:17 UTC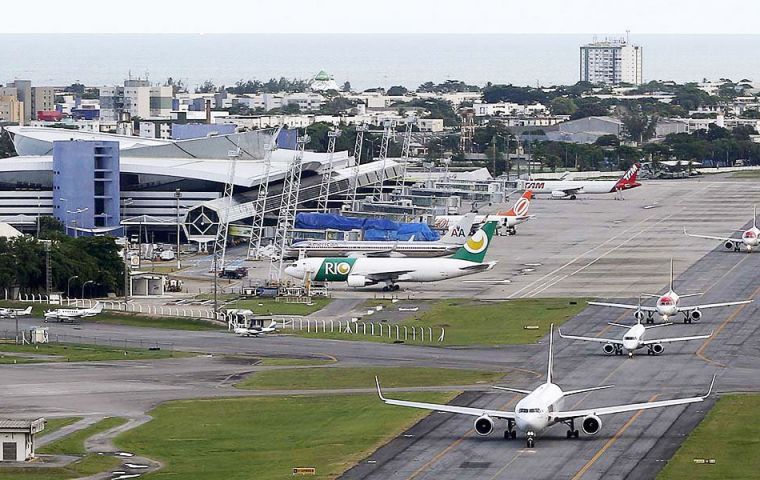 As if problems with the delayed stadiums was not enough, and with less than 10 weeks until the start of the World Cup, work on crucial new airport terminals has fallen behind in most of the dozen Brazilian host cities, heightening the risk of overcrowding and confusion during the tournament.
A temporary canvas terminal will be used instead of a planned airport expansion to receive fans in Fortaleza, which will host six matches including Brazil's game against Mexico.
During President Dilma Rousseff's visit to an airport in Belo Horizonte, the site of a semi-final, officials admitted that construction would not be completed in time. Back-up plans are also being prepared in other cities.
"Other airports have not said anything yet, but they will probably have to come up with contingencies," said Carlos Ozores, a principal at aviation consultancy ICF International who has consulted for Brazilian airlines and airport operators.
Concern over Brazil's airports is especially acute since they represent some of the tournament's most lasting investments. A host of other transportation projects have been scrapped or postponed, adding to criticism that the World Cup will leave few long-term benefits for ordinary Brazilians.
Soccer legend Pele said on Monday he worried that the state of Brazil's airports could ruin the opportunity presented by the tournament, adding that he was saddened to see rushed efforts when his country had years to prepare.
Quick fixes and last-minute deliveries are a recipe for chaos in the complex aviation industry, analysts say. Bungled openings of terminals from London to Denver took months to straighten out.
The stakes will be high in Brazil as more than 600,000 visitors arrive for the World Cup starting in June, one of the biggest sudden influxes the country has ever seen.
"People coming to Brazil are going to be shocked, especially Americans, by how bad the airports are," said Paul Irvine, who runs travel agency Dehouche in Rio de Janeiro.
"There won't be any catastrophic issues ... but they will be chaotic and ugly as heck," he said.