Lightning storms kill more than 60 cows in southern Chile
Wednesday, April 9th 2014 - 07:13 UTC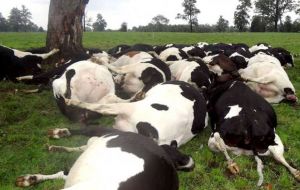 Ranchers in southern Chile say a series of lightning strikes has killed more than 60 of their dairy cows, costing the cattle owners thousands of dollars. Torrential storms and lightning on Sunday spawned the strikes in south-central Chile.
Worst hit was a ranch in Los Rios owned by Cecil Fourt, who says 55 of his dairy cows were killed by lightning and another one was blinded. Another rancher, Claudio Toledo, says nine of his cows sheltering under a tree were struck and killed.
The extreme meteorological event was and cattle deaths were confirmed by Pilar Gómez, head of the Chilean Agriculture and Livestock Service in the Los Rios region.
"We've had storms with lightning but never like this one", said Carlos Godoy, manager of La Hacienda where the 55 cows were killed. "It was not only the storm and lightning, there was some earth trembling; old people tell it had been decades since such a combination of thunder and lightning".
Godoy estimated losses in 100.000 dollars but "if you add the milking period of the cows our losses climb to almost 300.000 dollars".
In El Pilar farm, Toledo revealed that three days before another three cows had been killed in a similar incident in the same paddock.
The El Austral newspaper reported Tuesday that workers were digging a deep pit to bury the cattle.