Chevron and YPF unveil plans to invest another 1.6bn in Vaca Muerta shale
Friday, April 11th 2014 - 08:19 UTC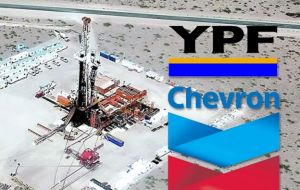 US oil giant Chevron and state-controlled YPF unveiled plans Thursday to spend another 1.6 billion dollars to develop Argentina's Vaca Muerta shale formation for oil and gas projects. The investment comes on top of 1.2 billion Chevron agreed to spend last year for a shale pilot project.
The second phase of exploration calls for drilling 1,500 wells across 395 square kilometers in the hopes of producing 50,000 barrels of oil per day and three million cubic meters of gas per day.
"The agreement between YPF and Chevron is the most important ever reached thus far for non-conventional hydrocarbon resource development in the country," YPF said in a statement.
Vaca Muerta, in the southern Patagonia region, is a huge deposit that ranks Argentina second in the world for shale gas reserves and fourth for potential shale oil reserves.
After many years of being self-sufficient, Argentina has recorded an energy deficit in recent years that reached 9 billion in 2013.
The growing energy bill is worrisome because the country is losing reserves in its currency. In a bid to regain autonomy, the Argentine government is re-launching production and targeting large investments by foreign firms.
Chevron said the continuing Vaca Muerta development will include exploration for shale oil and gas resources in a 49,000-acre area of Chihuido de la Sierra Negra concession, one of the main producing areas of the Neuquen basin in west-central Argentina.
"This is a significant step in our subsidiaries' joint efforts with YPF to develop one of the most exciting shale plays in the world today," said George Kirkland, Chevron vice-chairman. "Vaca Muerta could become an important contributor to Chevron's long-term production growth."