Vice-president Biden will visit Brazil and attend a US national team game
Wednesday, April 16th 2014 - 04:39 UTC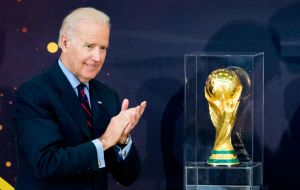 United States Vice President Joe Biden is planning to be among the crowds at this summer's World Cup soccer tournament. The White House announced Monday that Biden would travel to Brazil for the event in June. He also plans to attend a U.S. national team game.
Brazil expects 600,000 foreign visitors and 3 million Brazilian tourists during the month long tournament.
Biden got a look at the World Cup trophy Monday when it came to the State Department. The vice president also led the U.S. delegation to the last World Cup and called it "the most consequential sporting event in the world."
He says the tournament brings countries together, and people from every part of the world will be cheering on their team. FIFA says nearly 200,000 tickets will be available in the last online sales phase for the World Cup in Brazil.
Soccer's international governing body says fans will be able to purchase tickets for 54 of the 64 matches beginning Tuesday. The 10 games that aren't available are the final, the Brazil-Croatia opener, as well as eight other group stage matches: Mexico-Cameroon, England-Italy, Argentina-Bosnia, Brazil-Mexico, Spain-Chile, Cameroon-Brazil, Croatia-Mexico, and Australia-Spain.
FIFA's marketing director Thierry Weil says it's "the last chance for fans to secure their tickets."
More than 2.5 million tickets have already been allocated, including through FIFA's hospitality programs. The general public has purchased about 1.5 million tickets.