Uruguay, team and country are unified behind coach
Monday, April 21st 2014 - 06:35 UTC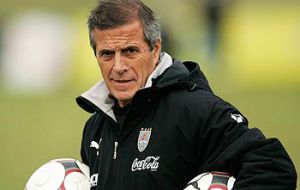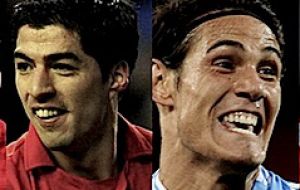 The following piece was published by the NYT 18 April edition and is dedicated to Uruguay's football tradition and history. Uruguay's population is only 3.4 million but has an incredible record in world and regional cups victories, both with its national team and in clubs' competitions.
MONTEVIDEO, Uruguay — It was a telling gesture when Greg Dyke, the chairman of the English Football Association, slid his forefinger slowly across his throat moments after England was drawn in Group D of the World Cup.
England will face Italy, which has won the Cup four times; Costa Rica, which ended the United States' recent unbeaten streak of 12 games; and Uruguay, a monolith of international soccer history that reached the semifinals in 2010 and has two of the world's best strikers.
Under Manager Óscar Tabárez, who took charge of the national soccer team in 2006, Uruguay has undergone a slow-burning revolution. It had failed to qualify for the World Cup in 1994, 1998 and 2006, and was so lightly regarded that it struggled to procure opponents for friendly matches. Tabárez, a former schoolteacher, reacted by placing an emphasis on nurturing youth players, part of a holistic approach popularly labeled the Tabárez process.
He also fostered unity, and wove individual flair and the warrior spirit, or garra charrúa, that has long been a defining trait of soccer here. The formula restored some of the glory Uruguayans enjoyed during the last century. In addition to guiding the World Cup run in 2010, he steered Uruguay to victory in Copa América, the South American championship, in 2011, the country's first title in 16 years.
It is uncertain whether Tabárez, who is 67 and walks with a hobble after surgery on his lower spine, will renew his contract after the World Cup in Brazil, causing unease among the players and fans who revere him.
"The process he has led is so important to Uruguayan soccer," said Sebastián Coates, a defender with 13 caps who plays for Nacional, a top club side here, on loan from Liverpool. "If he goes, we have to ensure it continues."
Some also worry about replacing influential figures on the field. Diego Lugano, the captain and defensive rock, is 33; Diego Forlán, the striker who was voted best player at the last World Cup, will be 35 when this year's competition begins. Tabárez, however, seems unconcerned.
"It's inevitable that one day, those players, like me, will move on," he said in an interview with foreign reporters. "But throughout this process, we have looked beyond the now by working hard to develop young talent," a reference to players like Coates, 23, and José María Giménez, 19, a defender who plays for Atlético Madrid in Spain.
Tabárez also has two forwards at their peak who would strike fear into any opponent: Luis Suárez, whose 29 league goals this season have propelled Liverpool to the top of the Premier League, and Edinson Cavani, who was purchased by Paris St.-Germain last year for a reported 84 million dollars.
Despite such firepower, Uruguay faltered in its World Cup qualifying campaign, scraping past Venezuela to earn a playoff against Jordan. But it also failed to qualify automatically in 2010, when it went on to top a difficult group of France, Mexico and South Africa, the host country.
While national teams laden with talent sometimes wither on the big stage, the opposite has been true of Uruguay under Tabárez.
The enduring images from 2010 are not just the audacity of striker Sebastián's Abreu chipped penalty kicks, which secured a semifinal berth, or Forlán's two missile-like goals. There is also the resilience of midfielder Diego Pérez, playing on as blood poured from a gash above his eye, and defender Jorge Fucile, who returned after an aerial clash left him momentarily unconscious.
"We don't believe in lost causes," Coates said.
The players' resilience is the product of a sense of collective responsibility instilled by Tabárez. "When I want to see the stars, I look at the sky," he said, when asked once if he treated star players differently.
Such musings have endeared Tabárez to Uruguay's population of about 3.4 million people, who consider him not merely the manager of the national team but the leader of the country's main cultural institution.
Describing the feeling of solidarity and euphoria that engulfed Uruguayans in the last World Cup, Jaime Roos, a popular musician, said in a documentary he directed about the tournament that it was as if the entire nation was "aboard the same ship, captained by Tabárez."
Tabárez, a philosophical man who offered his thoughts on the distribution of wealth and soccer as an instrument for tackling social problems, is acutely aware of the importance of his role.
He told of a woman in her late 80s who wrote to him after Uruguay won the Copa América in 2011, its 15th South American championship, a record. Though she had never liked soccer, she said she was overcome by a desire to embrace the throngs of fans celebrating in the streets.
"That doesn't happen in just any country," Tabárez said.
The scene in 2011 was a throwback to 1928, when people packed a downtown square to await telegrams updating them on the progress of the Olympic final in Amsterdam, which Uruguay won, 2-1, against Argentina.
Héctor Scarone, a forward and Uruguay's first star player, scored the winning goal. He was also influential in the 1924 tournament, when Uruguay stunned European sides in Paris by claiming the gold medal.
In the 1924 final, Switzerland was so fraught with fear that at times it played with eight defenders, according to Gerardo Cal, the curator at a soccer museum tucked inside Centenario stadium. The Centenario was the site of the first World Cup final, in 1930, which Uruguay won with Scarone on the team.
Twenty years later, in the decisive game of the 1950 World Cup, played at Maracanã stadium in Rio de Janeiro, Uruguay defeated Brazil, 2-1, in one of the most famous comebacks in soccer history. The ghosts of that match, once described as the Waterloo of the Tropics, still haunt Brazil.
But Uruguay has also been weighed down by its triumph, Tabárez said. It has not won a World Cup since.
"The new generation has always received a subliminal message that the champions were those at the Maracanã and that nothing we do today can equal that feat," he said. "But it's over now, and we have to focus on what is to come."
By Jonathan Gilbertapril, The New York Times