World Cup host city police back to work but number of slain people climbs to 39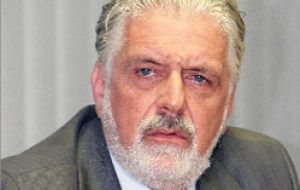 Three more people were killed in the capital of the Brazilian state of Bahia and local media reported that police officers were unavailable at most stations, although a two-day strike that affected Salvador-Bahía has been officially lifted.
 Union and official sources said officers were back at work after last week's strike, which was marked by looting, robberies and the slaying of at least 39 people, according to official numbers.
But local newspaper Folha de Sao Paulo reported on Sunday that an extra 16 homicides took place during the night from Friday to Saturday and then three more on Sunday, raising the death toll related to the police strike to 58 people and raising security concerns ahead of the soccer World Cup.
Military police from the state of Bahia went on strike a week ago to demand pay raises and a "new model to manage public security." The police force eventually lifted the measure on Thursday after a meeting between union leaders and state authorities, but the two-day strike and the violence that followed sparked concerns as Brazil prepares to host the World Cup in less than two months.
While the strike was on, Bahia governor Jaques Wagner asked President Dilma Rousseff to deploy 6,000 troops that eventually arrived on Thursday just as the strike was being lifted. Wagner warned, however, that the federal forces would remain in the state "until we have the certainty that everything is back to normal."
Salvador will host six World Cup matches, with the first one scheduled to take place on June 13, between Spain and Germany.
The unrest in the state of Bahia adds to a series of recent violent incidents in Rio de Janeiro's biggest slums, where police have set up posts in a bid to "pacify" favelas ahead of this year's soccer tournament and the 2016 Olympics that the city will also host.
In the most recent incident, angry residents of Niteroi — just outside Rio — torched nine buses on Saturday to protest the death of a man killed by a bullet on his way to a Good Friday church service.
Failing to deliver a safe and well-organized World Cup would be a serious blow for Rousseff, who is hoping that the soccer competition will boost her dwindling popularity ahead of a presidential election in October in which she will seek re-election.