Falklands sea lion population recovering, but still a fraction of the 1930s estimate
Wednesday, April 23rd 2014 - 11:40 UTC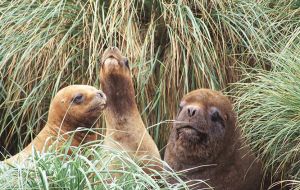 In the 1930s the Falkland Islands were reputed to hold the largest population of Southern sea lions, with a staggering 80,000 pups estimated to be born each year. However, a census in the 1960s and again in the 1990s revealed the population had declined by more than 90%.
With support from the Shackleton Scholarship Fund and the Falkland Islands Government Environmental Studies Budget, a team of researchers led by Dr. Al Baylis (Deakin University, Australia & SAERI) have recently completed the fifth census of the Falkland Islands sea lion population.
Over the course of three weeks in January and February 2014, over 4,500 sea lion pups were counted at 73 breeding sites around the Falklands (including seven new breeding sites).
This figure represents a 60% increase in the number of pups born since the population was last counted in 2003, but it is still just a fraction of the 1930s estimate.
To look for clues as to why the sea lion population declined between the 1930s and 1990s, the researchers also visited the Jane Cameron Memorial Archives and explored 100 years of Falkland Islands natural history.
The real challenge now lies ahead: trying to piece together not only reasons for the population decline, but why the population recovery has been so slow. To answer this long standing question, the researchers will combine census data with recent data collected on the foraging behavior of sea lions and fine-scale population genetic data.
A final report on the 2014 sea lion census will be available later in the year.
Dr Baylis sent his sincere thanks to land owners for assisting with the census and granting access to breeding colonies. (Penguin News).