Madrid trying to block sale of rocks to Gibraltar, according to Spanish media
Wednesday, April 23rd 2014 - 05:54 UTC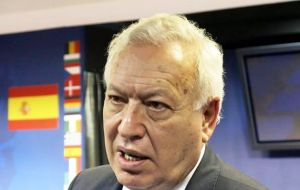 Spain's Ministry for Foreign Affairs is urging Morocco and Portugal to block the sale of rocks to Gibraltar, according to the online publication El Confidencial. The website reported at the weekend that the ministry headed by Jose Manuel García-Margallo had initiated contacts with "friendly countries" in a bid to stop Gibraltar's "expansionist" plans.
El Confidencial repeated erroneous reports that the Rock is reclaiming land on the east side. It was not clear on what grounds Spain was making the request.
Gibraltar has recently imported rock shipments from both Portugal and Morocco by sea after Spain banned such imports across the land border.
The rocks were lawfully purchased on the open market and used for EU-compliant coastal protection works in Sandy Bay.
Until now, Gibraltar imported building materials of this type from Spanish quarries.
A spokesman for No 6 Convent Place said the Gibraltar Government was aware of the online report but could not verify its veracity.
"Even if it is true, we are confident that it will not affect the government's ability to source any rocks or materials that are required," the spokesperson said.