Falkland Islands' "Agency of the Year" for Sulivan Shipping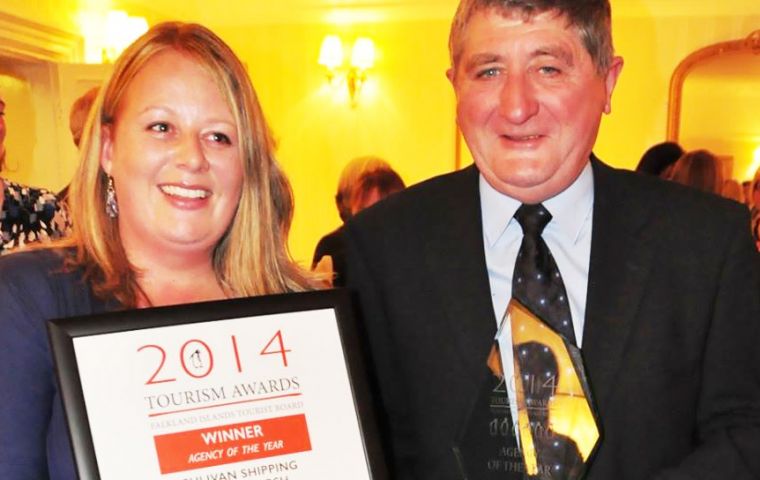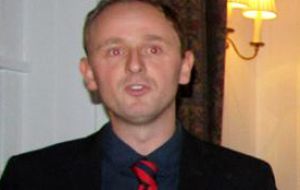 "Agency of the Year", for Sulivan Shipping and "Managing Director" to Roddy Napier, were among the outstanding performers of the Falkland Islands third Tourism Awards presentation which took place at Government House, Stanley, with the presence of Acting Governor John Duncan, tourist board and industry representatives and a large crowd.
Assisted by his PA Kyle Biggs, Tourist Board Managing Director announced the nominated businesses and revealed the winner of each section before the Acting Governor presented the awards.
Recipient of the Managing Director's award was Roddy Napier who along with his wife Lily have been active in the cruise tourism industry for 45 years.
Mr and Mrs Napier have been hosting cruise ships at West Point Island, providing access to the albatross and penguin colonies as well as serving tea and cakes to visitors since 1968.
In February of that year Lars Lindblad a Swedish-American entrepreneur and explorer, who pioneered tourism to many remote and exotic parts of the world and also led the first tourist expedition to Antarctica in 1966, visited West Point and Carcass Island.
For many years Mr. Linblad operated his own vessel, the MS Lindblad Explorer, in the region and the vessel's 1969 expeditionary cruise to Antarctica is mooted as the frontrunner to today's sea based tourism in the area.
In 1970 the first actual cruise ship to visit the Falklands was in fact the Linblad Explorer when it called in to New Island for two days. Mr. Napier told Penguin News that two of the largest vessels to visit were the Marco Polo and the Seven Seas Mariner and he and Lily had had occasion to offer tea and cakes to up to 600 visitors in one day.
Mr. Napier said he was very grateful, "honored and surprised," by the award.
Winner of the Tour Guide of the year award Tony Smith also said he was surprised, "most other people are dealing with greater numbers of people than me so it was a very nice surprise." Asked about his philosophy as a tour guide he said: "I try to answer every question they put to me, and having been involved for 20 odd years now I have picked up a lot." Mr. Smith said he drives, "a few hundred a year, but it's small numbers compared to others. I take private bookings rather than get involved in the big convoys."
Sulivan Shipping's Cruise Coordinator Sammy Marsh who accepted Agency of the Year Award on behalf of the company thanked everyone who voted for them. "It is lovely to know that all our hard work is appreciated. We work with many excursion operators, transport providers and landowners, and without them of course we would not be able to achieve what we do, so thank you to them as well," she said.
Welcoming guests to the event Acting Governor John Duncan said it was really important to recognize the excellence of the tourist industry and the people who work in it.
"It is a really important part of the economy and tonight is a celebration of the warm and welcoming spirit that Falkland Islanders show people who come to visit these wonderful Islands and the wonderful wildlife."
MLA Michael Poole who holds the portfolio for Tourism said it had been mentioned recently that the tourism industry doesn't always get the attention it deserves.
"It is the second largest industry in the Falklands in terms of economic output and also in terms of employment nowadays," he said adding that recent work by the Tourist Board demonstrated that for every pound the Government puts into tourism directly there are six in return. "That seems pretty good sense to me," he said.
The public diplomacy aspect is also important, said MLA Poole. "Tens of thousands people visit each year and get to meet and talk to Islanders and to a person I think they go away with a much better understanding and clearer view of what we are about as a people and a country." The evening was he said, "a celebration of the world class product that we have here." (Penguin News).
2014 Tourism Awards:
Driver of the year: Nobby Clarke
Taste of the Falklands: Malvina House Hotel
Visitor Experience of the year: Volunteer Point
Tour guide of the year: Tony Smith
Outstanding customer service: Harbour View Gift Shop
Public services award: FIGAS
Agency of the year: Sulivan Shipping
Camp accommodation offering the best overall experience: Carcass Island
Stanley accommodation offering the best overall experience: Lafone House
Managing Director's award: Roddy Napier