Argentina: Macri suggests to the Broad Front 'an agreement after the presidential election'
Friday, April 25th 2014 - 05:51 UTC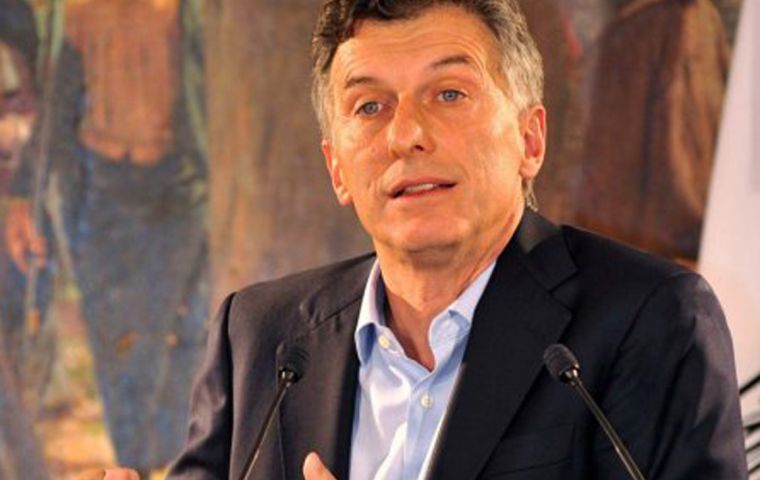 Buenos Aires City Mayor Mauricio Macri rejected on Thursday rumours suggesting a political alliance with the left leaning Broad Front UNEN, born this week and called for its leaders to seek an agreement for "after the (presidential) elections," in 2015.
The conservative Pro party leader congratulated members of the coalition, who on Wednesday officially launched their new political space with a rally at the Broadway Theatre in Buenos Aires City.
Macri appreciated "the organizational effort," as he emphasized: "that is what must be done: organizing and passing on a clear message of what we want, and after the elections finding consensus on policies."
The official also revealed the need to "sit everyone around a table following the ballot, in order to set state policies and resolve the people's problems, who are tired from empty promises."
During the meeting at an Industry, Agriculture and Argentine Development seminar, Macri remarked that "we stand before a huge opportunity, but we must be organized and think how and by what means are we going to do it."
On Wednesday Socialists, Radicals, Civic Alliance and a few small parties joined in a coalition ahead of next year's primaries and October 2015 presidential election.
Mathematically and based on recent opinion polls and tendencies the new coalition could become challengers for the two, so far, outstanding hopefuls from the ruling Peronist grouping which includes, dissident and former Kirchner cabinet chief, Sergio Massa and the Daniel Scioli, governor of the province of Buenos Aires, the country's largest electoral district which is crucial for any national election.
However with conservative Macri and his support in the city of Buenos Aires, some adjoining metropolitan areas and in other large cities, the Broad Front coalition could effectively become an alternative for the Peronist. neo Peronist majority, most probably forcing a run-off.