Argentina and Brazil agree to further integrate and prop their auto industries
Wednesday, April 30th 2014 - 09:22 UTC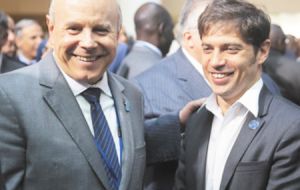 Argentina and Brazilian officials agreed to continue meeting regularly to solve as soon as possible bilateral trade problems mainly those referred to the auto industry. On Tuesday Argentine Finance minister Axel Kicillof and Industry minister Deborah Giorgi met their Brazilian counterparts, Guido Mantega and Mauro Borges in Brasilia.
"It is crucial to have a joint trade and productive strategy to continue advancing in the integration process and ensuring growth for both markets", Kicillof was quoted by the Argentine media.
"We will be working to expand and improve the productive integration of the auto industry", added the Argentine official who said both sides agreed to keep investing in the auto parts industry. However ministers pointed out that both governments had made great efforts to improve conditions for the industry and it was time for the private sector to match efforts.
The meeting was also attended by representatives from the Argentine and Brazilian auto industries.
"This does not mean that the round of technical meetings, next week in Buenos Aires, will be limited to the private sector: ministerial staff will be attending and working on a fast integration timetable", indicated minister Borges.
Regarding financing, even when the issue apparently was not on the table, last week in Buenos Aires it was revealed that Brazil's government banks would be prepared to help with a loan that could reach 2 billion dollars.
Next week's meeting in Buenos Aires should establish goals and a timetable with the participation of ministerial staff. Ministers are expected to join when the whole package has been agreed.
Argentina is concerned because its deficit with Brazil in auto-parts and vehicles amounts to 2.7 billion dollars. However officials from both countries agreed that it was necessary to increase the volume of cars traded both ways to prop the industry. Car production in Brazil and Argentina during the first quarter of the year dropped 8.4% and 16% respectively.