Malvinas next of kin ceremony to remember the sinking of 'General Belgrano'
Wednesday, April 30th 2014 - 09:03 UTC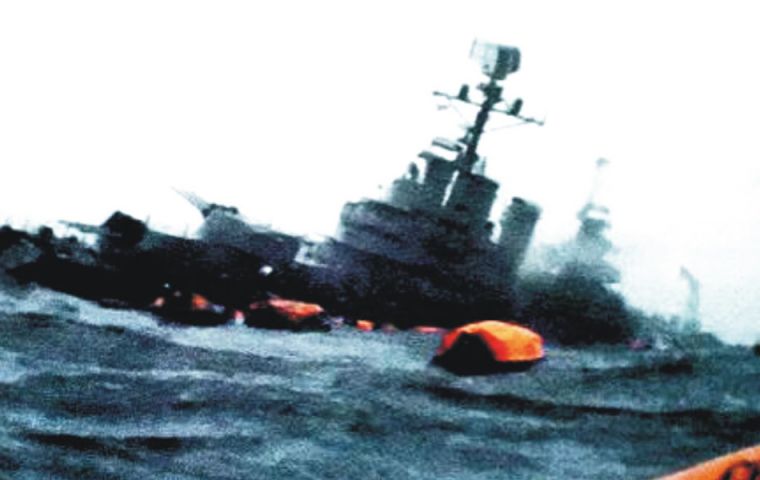 The Malvinas and South Atlantic Islands next of kin commission and the Cruiser "General Belgrano-last crew" association will be honoring next Friday 2 May the 323 crew members of the Argentine man-of-war sunk during the Falklands/Malvinas conflict in 1982.
The ceremony will take place at 13:00 hours at the Monument to the South Atlantic Feat Fallen Heroes in Plaza San Martin. At 15:00 relatives of crew members will board a vessel at the Buenos Aires naval stockade and drop wreaths in the River Plate.
An hour later a religious ceremony is scheduled in which the Lujan Virgin, patron saint of Argentina and recently blessed by Pope Francis, will be carried in procession.
The "General Belgrano", a former US Navy second WW II cruiser was torpedoed and sunk by the RN nuclear powered submarine Conqueror while the vessel was navigating in and out of the south edge of the exclusion zone imposed by the British following the invasion and occupation of the Falklands by Argentine troops.
The cruiser had a crew of 1.093, of which 323 lost their lives, mostly conscripts. Frigates that were sailing next to the old cruiser, fled the scene fearing they might also be torpedoed.
The attack caused half the total loss of lives for Argentina in the 74-day conflict which started with the military invasion of the Falklands and South Georgia in 1982, and with the complete surrender of the occupying forces to a Task Force sent by then Prime Minister Margaret Thatcher.
For many years it was considered that the submarine 'kill' ordered by PM Thatcher was excessive and unnecessary since the cruiser was abandoning the exclusion zone.
However Argentine navy officers with time admitted that their instructions were precisely to sound out British forces defense and plans and thus the in and out sailing tactic. Following the sinking of the "General Belgrano", the Argentine fleet including aircraft carrier "25 de Mayo" returned to their base in Bahía Blanca and never came out again.