Falklands or Malvinas: uproar in Argentina with YPF tourist guide
Saturday, May 3rd 2014 - 05:58 UTC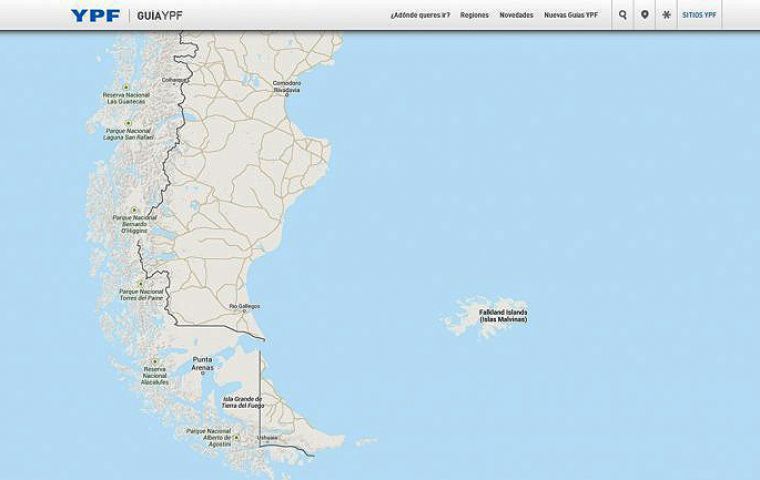 The internet tourist guide from Argentina's nationalized oil and gas company YPF describes the Malvinas as Falklands, Puerto Argentino as Stanley, and Isla Gran Malvina as West Falkland, claim several Argentine media.
YPF, which since the government of President Cristina Fernandez seized a majority stake from Spain's Repsol has become the flagship of Argentina, "has committed a major mistake with its tourist guide", and although precise and a valuable tool for tourists and travelers "includes the Malvinas as Falklands, and to make it even worse, Malvinas also figures but in brackets".
The YPF guide offers a raft of tours and tourist attractions to visit in Patagonia, but the big surprise comes when the "Mar Argentino" (South Atlantic) holding the archipelago "is referred to with the nomenclature imposed by the British invaders who seized the Malvinas islands from Argentina"
The report recalls that the usual name to refer to the disputed islands in Spanish and Portuguese is "Islas Malvinas", and is also the denomination given by Mercosur, Unasur, ALADI, the Ibero-American summit and other regional organizations.
For the Organization of American States, OAS, the official name is 'Islas Malvinas' and 'Malvinas Islands' in English, while for the United Nations, since 1966, Islas Malvinas and Falkland Islands.
Likewise the capital of the Islands appears with the name "Stanley", instead of 'Puerto Argentino'.