Spain's economy shows timid performance but unemployment remains at 26%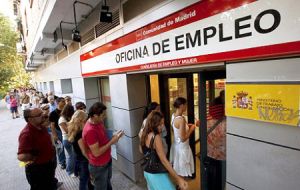 Spain's economy expanded by 0.4% in the first quarter of the year topping the previous quarter's growth rate by two-tenths of a point, the National Statistics Institute, INE, confirmed. However unemployment remains at a record 25.93%.
Spain's GDP grew 0.6% compared to the first quarter of 2013, after declining by 0.2% in the previous quarter. That marks Spain's first annual growth figure after nine consecutive quarters of economic contraction. The improved economic performance was due to increased domestic demand, offset partially by a drop in external demand, the INE said.
The Bank of Spain has anticipated it expected economic output to have risen by 0.4% in the first quarter relative to the previous three-month period. Spain's economy grew 0.2% in the last quarter of 2013 compared to the July-September period.
Joaquin Maudos, a professor of economics at the University of Valencia, said international institutions are forecasting growth of around 1.2% this year and that the Spanish government also has revised its 2014 forecast upward to that same figure.
Spain's economy minister predicted last week that the economy would grow an average of 1.5% in 2014 and 2015. The country's economy which was battered late last decade by the collapse of a long-building housing bubble, emerged from a double-dip recession last year.
The unemployment rate remains sky-high, however, coming in at 25.93 percent in the first quarter.