"Manaos less riskier than Iraq" Brazilian Sports minister tells English media
Wednesday, May 7th 2014 - 07:16 UTC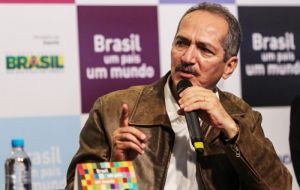 Brazil's Sports minister Aldo Rebelo minimized the possibility of violence during the coming World Cup and replied to the British media that the Amazon city of Manaos, where England will be playing a match, will not be riskier that war zones.
"I don't think there will be more risk for the English than those they confronted in the Iraq provinces when their participation in recent wars", said the minister ironically, downplaying violence and protests in the 2014 World Cup's host country.
Rebelo insisted that visitors fears have been inflated out of proportion and are significantly less than in war regions. Allegedly the British media has attacked the Manaos venue since they argue it is not prepared for an influx of English supporters when they play Italy.
The British press also expressed growing concern about security in Brazil where daily clashes between the police, organized crime and the drug barons gangs, particularly in Rio do Janeiro favelas, shanty towns, are a daily event, while tens of thousands are expected to turn out to the streets to protest lavish expenditure for the Cup.
Besides Manaos is in the middle of the Amazon rain forest, with much humidity and temperatures that can reach 40 degrees Celsius which Europeans fear most.
"An English newspaper wrote that there is the risk that snakes attack the loyal subjects of Her Majesty in the streets of Manaos. I have been into stats of snake and dog attacks in Manaos and let me tell you they are not alarming as the English media would like to present", concluded Rebelo.
Meanwhile a child was injured in the head by a stray bullet during a gun battle in one of Rio's favelas between police forces and organized crime. The news of the eight year old victim came while the deployment of 2.000 Special Forces in the favelas as part of the Pacifying Police policy.
Residents of the Santa Isabel favela accused the police for the shooting and organized barricades with tires they set on fire and chanted for 'justice' and 'killer police".
More Brazilian army troops and marines are scheduled to be deployed in several of the favelas to further reinforce security. Some of the favelas are walking distance from the Maracaná stadium that will host the Cup final, from the sophisticated beaches of Ipanema and Leblon, and next to the highway leading from the airport.
Rio de Janeiro's governor Luiz Fernando Pezao has promised that authorities will not yield one millimeter despite the recent increase in violence and armed clashes with the police.