UK MPs hosted at the Argentine embassy in London with a typical barbecue
Wednesday, May 7th 2014 - 23:26 UTC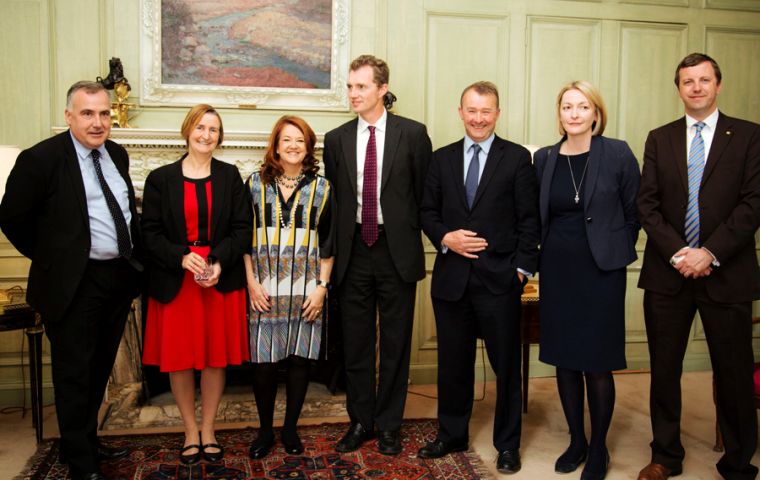 The Argentine Ambassador to the United Kingdom, Alicia Castro, underlined "the importance of dialogue and the historical and cultural ties that link Argentina with Wales" when she hosted this week a traditional Argentine barbecue at the Ambassador´s residence in London for a delegation of British parliamentarians who visited Argentina in March.
David Davies, chairman of the Welsh Affairs Committee, hailed the visit to Argentina as "a success" and stressed the importance of strengthening ties between the two countries. "We were able to gain an insight into the everyday lives of Patagonian Welsh communities and witness the vitality and energy with which they keep the Welsh language and culture alive in Argentina", Davies stated.
The delegation was comprised of nine MP´s representing Britain's main political parties.
On their visit to Argentina, the members of parliament were received by Argentine Congressmen from the Foreign Affairs Committee and, in Patagonia, by Chubut province Governor Martin Buzzi, with whom they looked over a program of planned activities for the 150th anniversary celebrations of the settlement of the Welsh in Patagonia to be held in 2015.
In Chubut, the parliamentarians visited and held meetings in Rawson, Esquel, Trevelin, Trelew and Gaiman.
"The establishment of a Welsh settlement in Argentina, which has preserved its traditions, language and cultural identity, provides a fine example of the respect and friendship that our country offers British people and British descendents living in Argentina", Alicia Castro said during the meeting. (Argentine embassy release).-