Repsol/YPF 'marriage' definitively over; Spanish company ends 15-year presence in Argentina
Friday, May 9th 2014 - 07:01 UTC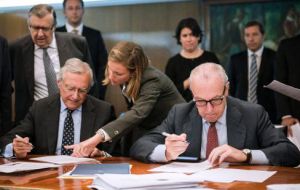 Spanish oil major Repsol signed a definitive settlement agreement Thursday with Argentine President Cristina Fernandez's administration, which transferred more than 5 billion dollars in bonds as compensation for the 2012 seizure of Repsol's controlling stake in energy firm YPF.
Combined with Repsol's move this week to sell most of its remaining interest in YPF to Morgan Stanley, the settlement brings an end to Repsol's 15-year presence in Argentina.
Economy Minister Axel Kicillof signed the deal with a group of representatives from Repsol, which as part of the settlement agreed to drop all legal action against Argentina.
The agreement was signed just hours after the Argentine government formally issued the expropriation-related bonds. In accordance with the terms of the deal, Argentina delivered to Repsol a portfolio of sovereign bonds maturing between 2017 and 2033. The bonds, whose interest rates range from 7% to 8.75%, have a total nominal value of 5.3 billion.
On Wednesday, Repsol announced that it sold an 11.8% stake in YPF to Morgan Stanley for 1.26 billion, a transaction that yielded a capital gain of 620 million and left it with a roughly 0.5% interest in the Argentine company.
After a two-year dispute that caused Spanish-Argentine bilateral relations to sour, the two sides said there were no winners or losers in the settlement.
Repsol is expected to use the proceeds from the compensation deal to make acquisitions and continue growing as a company, while the settlement opens the door for Argentina to attract foreign investment and resolve a serious energy crisis.
YPF plays a major role throughout Argentina's oil and gas supply chain and is of strategic importance to Cristina Fernandez, whose term as president expires in 2015.
Founded in 1922 as a state-owned enterprise, YPF was privatized during the 1989-1999 administration of Carlos Menem. In January 1999, Repsol bought a 14.9% stake in YPF for around 2 billion and in April of that year launched a 13.4 billion tender offer for the rest of the company's share capital.
Argentine group Petersen - owned by the Eskenazi family, which had close ties to then-President Nestor Kirchner, Fernandez's late husband - acquired 14.9% of YPF from Repsol in 2007 and in May of 2011 purchased an additional 10%.
In May 2012, Argentina's Congress backed Cristina Fernandez's move to nationalize YPF by seizing a 51% stake in the company from Repsol.
In carrying out the expropriation, her government alleged underinvestment in Argentina's hydrocarbons sector, although Repsol vehemently denied the accusation. The expropriation soured relations between Buenos Aires and Madrid and sparked international outrage, including from Spain's European Union partners.
Resolving the dispute could help YPF to lure investment to the vast Vaca Muerta shale oil and gas field in Argentina, which it discovered in 2010.
The find is estimated to contain the equivalent of 22.8 billion barrels of oil, described by Repsol at the time as the largest discovery in its history.
In related news YPF reported a stronger-than-expected first-quarter profit on Thursday thanks to higher production, price increases and a sharp devaluation in the local peso currency.
YPF posted profit of 2.787 billion pesos (348.3 million dollars) on Thursday, up 129% from a year ago. The company said production of hydrocarbons rose 10.7% in the quarter to 529,700 barrels of oil equivalent per day, crude output increased 6.8% and natural gas production gained 18.5%.
The 23% devaluation of the Peso in January also boosted revenue in pesos from energy exports in dollars.