The very good reasons to invest in Uruguay, according to Minister Bergara
Wednesday, May 14th 2014 - 05:08 UTC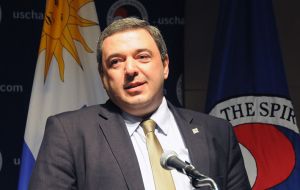 Minister of Economy Mario Bergara addressed on Tuesday the US Chamber of Commerce in Washington and said Uruguay was a good place to invest because despite being a small market, it was a good launching pad to develop in the region.
Bergara spoke before the Chamber after President Jose Mujica with a speech that was far more technical admitting that infrastructure and qualified labor threaten to become a bottle neck for the continuing development of the Uruguayan economy.
"Uruguay is a good place to invest, we're not a large market, but we are a good launching pad to develop business in the region, besides the fact that the rules of the game in the country are very clear, the same for nationals and foreigners and legal security is a fact", said Bergara
However the minister did admit Uruguay had with inflation "a serious challenge" in the "short and mid terms", but nevertheless the average consumer and industrial prices indexes have fallen dramatically in the last decade compared to previous periods.
Bergara also pointed out as an achievement of the current government the considerable reduction of poverty and indicated that "we do not favor fast growth with high concentration of wealth and income".
Nevertheless foreign trade has multiplied several times as has GDP with the influx of foreign investment attracted by clear rules of the game and a generous fiscal system.
Finally Bergara indicated that Uruguay's international reserves currently above 17bn dollars are more than enough to overcome adverse circumstances and trade is sufficiently diversified to avoid a crisis of the magnitude of 2002, which was the spillover from the melting of neighboring Argentina's economy and its massive sovereign default and contagion.
Uruguay however honored its sovereign debt and with financial help from the Bush administration, managed to rapidly overcome the situation. The bridge loan was returned to the US in three months and by 2003 the Uruguayan economy was again growing strongly, never having ceased to pay interest or capital.