Consumer prices in Argentina decelerate, but controversy on how much persists
Thursday, May 15th 2014 - 07:14 UTC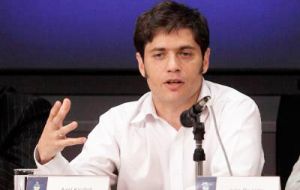 The Argentine consumer-price index climbed 1.8% in April over March, which means that during the first four months of the year it reached 11.99%. The CPI announcement was made by Economy minister Axel Kicillof at a press conference on Wednesday. However private estimates and the Buenos Aires City index show greater percentages.
The rise in April's CPI was led by gains in housing and services, 3.1%; clothing, 2.5%; education and transport 2.3% each; leisure 1.9%; other goods and services 1.3%, while food and beverage 1.1%.
"What we are seeing here is a significant deceleration compared to previous months and the exceptional events at the beginning of the year", said Kicillof.
April marked the lowest month-on-month rise in Argentina's new CPI since the index was launched at the start of the year. Inflation has slowed notably from increases of 2.6% in March, 3.4% in February and 3.7% in January.
The authorities have managed to contain inflation by keeping interest rates at almost 30% while negotiating price caps on hundreds of consumer staples and price rollbacks on industrial goods.
The government of Cristina Fernandez launched the new CPI after the International Monetary Fund told Argentina early last year to improve the quality of its economic statistics in a public rebuke that opened the door to possible sanctions. The old CPI consistently put annual inflation around 10%, while most private-sector estimates were easily double the official numbers.
However despite the greater transparency of the new CPI, the average of estimates by private consultants, usually announced by opposition lawmakers in Congress, stood at 2.16% for April.
Likewise the Buenos Aires City government which has its own CPI said that the index in April was up 3.1%, that is 16.9% in the first four months of the year and 38.2% in the last twelve months. For the Buenos Aires City CPI, food and beverage prices climbed 1.6% in April but 44-3% in the last twelve months.
The leading gains were in clothing and footwear, 11.2%; housing and public utilities, 6.1% and leisure and culture, 3.2%, while transport only registered 0.5%.