"Good manners" take you further, fighting is 'senseless' confessed Mujica
Thursday, May 15th 2014 - 07:28 UTC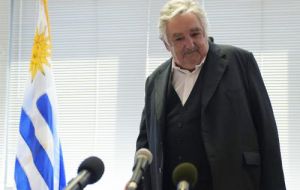 President Jose Mujica in a private dinner with Uruguayan media in Washington revealed that in his meetings with US officials he tried to show that with 'good manners' you can disagree and also advance because it is 'senseless' to fight. He also anticipated that when his mandate is over he plans to visit the Basque provinces from where his ancestors came to Uruguay in 1840.
"I visited the place and I loved it; I want to go back. My last name Mujica has several variants, Muxika, so I want to explore my roots" said the Uruguayan leader who also anticipated he was looking forward to rejoining meetings with friends at his farm in the outskirts of Montevideo.
Mujica's five year mandate will be over next March following on the presidential election of next October. In Uruguay there is no consecutive re-election. With the World Cup ahead and three months left before the election, Mujica is well aware that he has become a 'lame duck' in domestic affairs.
The former guerilla spent years in jail for sedition, robbing banks, kidnapping and other crimes, which somehow helped to tumble Uruguay's old political system that was replaced by a military dictatorship. However since the return of democracy in 1985 Mujica became fully active in politics and with his group managed to become the strongest force in the ruling coalition and was elected president in 2009.
"In my meetings with President Obama, Vice-president Joe Biden, Secretary of State John Kerry I tried to show and prove to them that with 'good manners, nice ways' you can disagree but also advance because it is senseless to fight", said Mujica who also revealed that Dilma Rousseff had invited him for the opening of the World Cup next June in Sao Paulo.
"A good friend of all of us, generous with Uruguay, but I don't know if I can make it", he said.
After dinner Mujica asked for an infusion and since he didn't like the flavor he requested plain tea, and recalled an episode over fifty years ago when he was the secretary of then Minister of Industry Enrique Erro, who was also his political mentor.
"At the time the Supply Office from the ministry called a tender for tea and the Chinese government came along with an offer that included 34 different kind of teas. They had the best prices but it was a headache because how we to know all the different were typed of tea".
Mujica also talked about the richness of the Spanish language, his admiration for several Latin American writers and addressed international politics, including the Ukraine crisis and the 'resilient Russian nationalism'.
Finally the president told those with whom he shared dinner "you are going to miss me" and had pictures and selfies taken with those attending including US ambassador in Montevideo, Julissa Reynoso.