Mujica's reference to Uruguayan's work contraction triggered controversy
Thursday, May 15th 2014 - 07:41 UTC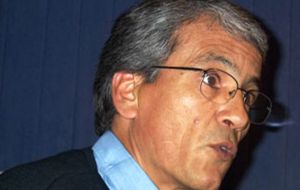 President Mujica's speech before the US Chamber of Commerce on Tuesday had its good side, the strong references to Brazil and the fact Uruguay is a 'decent country' and 'we don't go around bribing people', but there was also another side which was controversial.
The Uruguayan president is on a several days visit to the US and one of the highlights besides the meetings with President Barack Obama and Secretary of State John Kerry was the address to over 120 representatives from the US main corporations and investment funds.
Mujica insisted Uruguay is a 'decent country' that keeps and respects the rules of the game, is politically stable and despite the fact that Mercosur is a 'disaster' the country has the benefit of being a privileged neighbor of Brazil.
"We have an adult political system" but 'we are not very hard workers, just so-so; we don't overwork, be it because of tradition, culture or whatever", a comment which brought Uruguay's Chamber of Industries and organized labor together, a first time in years.
"Mujica's words were too broad, in our business and in our organizations we work really hard; maybe he knows some circles where they don't like to work hard" said Javier Carrau president of the Chamber of Industries. He added that "at some point we will have to talk it over with him, it's unfair to be so ample, because if we are after investors it does not seem to be the best path".
Farmers also complained. "If Uruguay has grown and developed is not because of capital only, it was mainly work and effort. In the camp we work very hard, he should know that" said Ruben Echeverría president of the Rural Federation.
Back in Montevideo the main unions organization Pit-Cnt was more pragmatic. "The president can say what he wishes but in Uruguay we have hard workers, and those who are not hard workers, like is all walks of life", said Beatriz Fagian.
"As we said on the May first celebration, the worker with principles goes to work and does his job the best he can", added the union leader.
But the Broad Front coalition did not take the comment pleasantly. One of the ruling party's vice-presidents Communist Juan Castillo pointed out he didn't like the president saying that "the Uruguayan worker is lazy".
"I think it is too general and is offensive for the majority who are hard workers. I'm not going to say that 100% of workers break their backs out but I'm certain the majority love their jobs and to their best. I don't think it is good to say that we are "a bunch of good-for-nothing".
"I'd rather accept the objective, bringing investors to Uruguay, even if it comes with the anecdote, but I can't deny I am annoyed", said Castillo.
The reference to the fact that Uruguay is a decent country, does not live on bribing, is friendly towards entrepreneurs and investors, (although 'we won't sell them our soul nor buy their pockets'), plus the fact it is a country that 'offers gigantic guarantees' had, as could be expected a strong reaction across the River Plate in Argentina.
The main newspapers, television channels and broadcasting stations made headlines with Mujica's statements on bribing, decency and friendly to foreign investors.
On the contrary Mujica had only praise for Brazil, its potential and opportunities, the same arguments of his presentation to President Obama on Monday.
"I invite you to invest in Uruguay because we are in Mercosur, much criticized and full of defects and at times a disaster, but we are next to Brazil and with excellent relations with Brazil. It's an emerging power and who does not realize this, it's time to wake up, and forget the economic reviews and reports. Foolish and dumb of us if we don't acknowledge this continental country".
Here also the neighbors on the other side of the River Plate did not think the comments were palatable.
Mujica also met with representatives from Citibank, Coca Cola and Price Waterhouse Coopers and admitted that even when public security in Uruguay has worsened, compared to the rest of the region 'our problems are innocent'.
Finally Mujica defended the policies implemented by the two consecutive Broad Front governments arguing that economic development, wealth distribution and boosting the domestic market with higher salaries have been extremely successful.
"To sell, somebody must buy and thus you must improve the purchasing power of consumers", he said pointing out that poverty in Uruguay was down from 39% to 11.5%, but we are in a stage of the battle which is the most difficult because it's not only an economic problem, 'we have the hard core cultural aspect and mental framework to deal with".
Chairman of the Chamber of Commerce, Tom Donahue acted as host of the event and was impressed by the Uruguayan president's personality. Interviewed by the Uruguayan media, Donahue praised Mujica's pragmatism and communication capacity but jokingly concluded that "if I was young, I would have believed every word he said".