Falklands visited by Punta Arenas experts in ports, logistics and shipping
Tuesday, May 20th 2014 - 19:35 UTC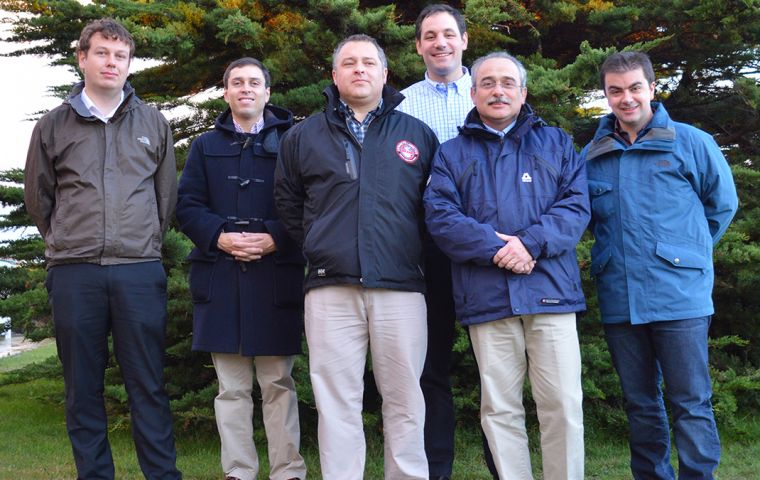 A group of managers representing Punta Arenas port facilities, logistic companies and shipping companies visited the Falkland Islands last week with an ultimate aim to offer solutions to the current and future commercial needs of the Islands.
Speaking to Penguin News Asmar Magallanes General Manager Marcelo Mahuzier and four other businessmen said the group visited with, "a commercial agenda," and the intention of understanding, "what is going on around the Islands … Things are evolving quickly so it is important to link with the people now and see what is available for us and for them in a future business relationship."
The businessmen, said they had a wonderful reception in the Islands, and with members of the Falkland Islands Chamber of Commerce, the fishing industry, oil and gas company representatives and the Government.
Explaining what they might bring to the oil and gas industry in the Islands, Mr Mahuzier said: "I think we can offer a whole lot, Punta Arenas is so near it could well be a platform for logistic support… we have an airport and planes that only take two hours to get here, we've got port facilities, and there are new developments in infrastructure that will increase our capability for cargo transfer and suchlike. There are plenty of opportunities and since decision makers are planning the way ahead we want to get involved in the early stages so that we can be an option."
Mr Buljan who is the Branch Manager of shipping agency Agunsa, added: "We have a lot of homework to do on our return and we will focus on getting real results from our work.
"We have a clear picture of what is going on here and I think that we must transfer all of this information to our local government, and tell them that we need the link and the connection to be as soon as possible on a regular basis."
He said not only should this link be via shipping, but they might be able to help set up a second flight to the Falklands: "We have to do good step by step planning according to real needs and then proceed from there".
Mr Mahuzier described the delegation as a group of, "friends involved in areas that are well linked together".
Alvaro Insua of shipchandler Galicia Shipping is part of a big logistical company including shipping and construction, "he can source anything, he is a miracle man," adding, "should difficulties arise because of more competitive prices or whatever, we are in a good position to re-analyze and present a better proposition. So that is why we built this committee."
Also visited Stanley representing ULOG Chile Felipe Carvallo and Ignacio Covacevic of EPA (Empresa Portuaria Austral).
The visit was in response to a Falklands trade delegation to Punta Arenas last year. Punta Arenas in the extreme south of Chile is a dynamic city linked to shipping, tourism, mining, fishing and agriculture, and besides has the lowest unemployment rate of the country. (PN).