Chile to Host 5th Edition of the Global Mining Technology Forum
Thursday, May 22nd 2014 - 08:53 UTC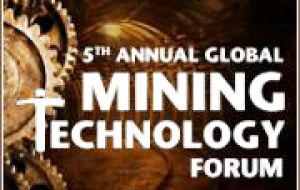 The 5th Annual Global Mining Technology Forum will be held in October 2014 in Santiago to discuss the mining industry's way forward in technology adaptation. Fleming Gulf Conferences has announced that the 5th edition of it's flagship mining conference will take place in October 2014 in Santiago, Chile.
The event will be a definitive meeting point for technology leaders across the regional and global mining community to discuss how to increase business value and productivity by adopting the latest technology available.
"Mining companies are showing low levels of productivity and high costs of production due to increasing processing costs from factors such as labor, energy and lower ore grades. The industry is eager to discover solutions that will improve productivity, that can bring back production costs to competitive levels compared with other leading mining countries. Chile is currently making huge investments in clean and more efficient mining technologies.
The 5th Annual Global Mining Technology Forum will be a gathering of mining technology experts from across the world to discuss latest technology innovations that are making mining cleaner, energy efficient, water saving, safer and sustainable. In line with the event theme of global relevance, the event will have exclusive sessions on latest in the fields of IT, communication technologies, robotics, automation, space mining, deep sea mining and deep and low grade ore mining. ", stated Fleming Gulf's Production Manager – International Events, Aditya Chopra.
Taking place from 6-8 October, the forum will feature expert presentations, case studies and learning sessions led by some of the industry's most acclaimed leaders. Some of them include: Marco A. Orellana, CIO - CODELCO; Javier Aránguiz, Mining Director (P) - COCHILCO; Raj Kumar Roy, President - Griffin Coal Mining Company; Douglas Morrison, President & CEO, Chair in Holistic Mining Practices - The Centre for Excellence in Mining Innovation (CEMI) ; Claudio Zamora, President & CEO - Kairos Mining and Ted Blom, Independent Mining Advisor, South Africa.
The third day of the forum will be dedicated to workshops on emerging tracking technologies for underground mines and micro-seismic monitoring where attendees will receive practical knowledge on RFID tracking technologies, microseismic data acquisition systems and other seismic processing software.
Over the last 4 years, the Global Mining Technology Forum has seen 97+ industry speakers, over 700 attendees from 47 countries, and more than 50 sponsors. The 2014 edition is supported by the IOM3: Institute of Materials, Minerals and Mining. Global mine ERP solution provider Centric Mining Systems is Gold Sponsor of the Forum.