Falklands' Premier and Noble have contracted a rig, according to Norwegian energy website
Thursday, May 22nd 2014 - 07:40 UTC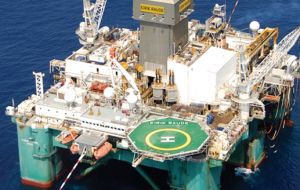 Ocean Rig has reportedly received a contract for its Eirik Raude semi-submersible rig for a drilling campaign in the Falkland Islands. According to Offshore.no, a Norwegian energy news website, the rig will be used by Noble Energy and Premier oil for their respective drilling campaigns in the Falkland Islands waters in 2015
Ocean Rig has reportedly offered a better bid compared to the one made by Seadrill and its West Navigator drillship, which will, according to sources quoted by Offshore.no, now look for an opportunity to deploy the drillship in the Shetlands area.
Last week Premier Oil said a rig contract and an associated rig sharing agreement for the Falklands drilling program was expected to be signed shortly. The campaign is planned to start in Q2 2015 and is expected to comprise four operated wells on Premier acreage; three on PL004 and one on PL032 Premier said.
Noble Energy in February this year completed an extensive seismic survey campaign over its licenses in the area, and, according to FOGL (Falkland Oil and Gas Ltd.), a stakeholder in the blocks, drilling is scheduled for early 2015.
According to Offshore.no, the Eirik Raude rig will earn as much as 500.000 dollars per day.
The Eirik Raude is a 5th generation self-propelled semi-submersible drilling rig, currently working for Russian privately-held oil company Lukoil. According to a fleet status chart on Ocean Rig's website, the contract with Lukoil expires in early 2015. The rig recently completed an exploration well in the Ivory Coast off west Africa.
The rig, built in 2002, has an extensive drilling history. The Eirik Raude has drilled deep water and ultra deep water wells in Canada, US Gulf of Mexico, Cuba, Norway, Ghana and Ivory Coast whilst working for Encana, PetroCanada, Imperial Oil, Repsol, Statoil Hydro, ENI, Exxon, Chevron, Tullow Oil and Anada.