Brazil supports Argentina's Malvinas claim and agrees to more presence in the South Atlantic
Friday, May 23rd 2014 - 07:13 UTC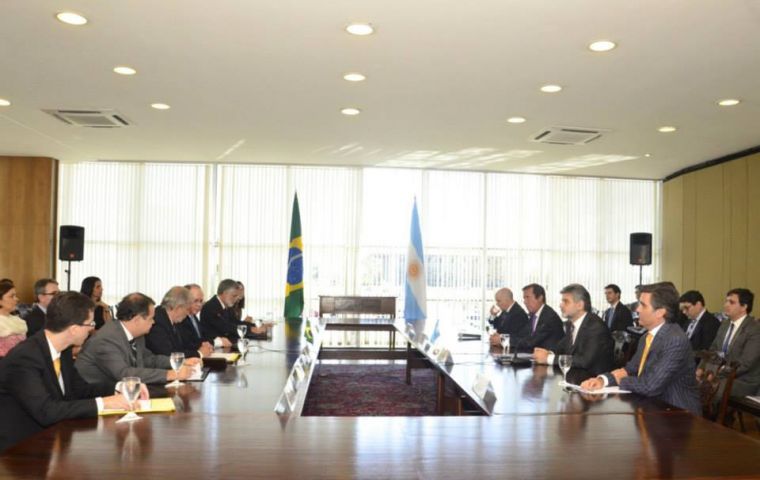 Brazil reaffirmed support for Argentina's sovereignty rights over the Malvinas and other South Atlantic islands and surrounding maritime spaces at a meeting of the head of the Malvinas Islands affairs desk, Daniel Filmus with top officials from Defense and Foreign Affairs in Brasilia.
"They reaffirmed Brazil's historic position regarding Argentina's claim over the Malvinas, South Georgia and Sandwich Islands and adjoining maritime spaces" said Filmus following a meeting with Defense minister Celso Amorim and Deputy Foreign affairs minister Eduardo Dos Santos.
The support from Brazil was later stamped in an official declaration from Itamaraty, seat of the country's Foreign ministry.
"It's the first time the Brazilian government has extended an invitation to specifically address the issue of Malvinas", said Filmus, adding it was evidence of Brazil's support and interest in promoting Argentine rights over the islands.
Filmus and the Argentine ambassador in Brazil Luis María Kreckler met on Thursday morning with the chair of the Lower House Foreign Affairs and Defense committee, Eduardo Barbosa. At midday the Argentine representatives were received at Itamaraty by Deputy minister Dos Santos and top officials from the ministry including the heads of the South America, Environment and Energy and Oil Desks.
To that respect "Brazil anticipated support for Argentina at the coming OAS meeting next July and at the UN Decolonization Committee in June", said Filmus, who is on a two day visit to Brasilia.
In the afternoon Filmus met Defense minister Amorim who reaffirmed "the approach initiated by former presidents Nestor Kirchner and Lula da Silva to privilege regional integration, more specifically Unasur and in that context, the Malvinas issue should be addressed not only as an Argentine demand, but also regional".
Filmus referred to the threat that the UK military base in Malvinas represents, "which is far from being a defensive deployment, as argued by the British". He added that the two sides agreed in the need for the two countries "to begin joint actions in the South Atlantic".
"We spoke in depth about the recent 'Blue Pampa' project launched by President Cristina Fernandez as a scientific integration and conservation platform for the natural resources in the South Atlantic, and also agreed to give a new boost to the project of a 'peace zone' in the South Atlantic" which includes both sides of the ocean, South American and African countries, concluded Filmus.